PLANTATION, FL -- A free ride around South Florida wasn't much of a hoot for a woman's unlucky passenger.
Sonji Coney Williams says she was driving about 60 mph on the Florida Turnpike near Yeehaw Junction Thursday when she struck a bird that didn't move off the road.
"I felt so bad, but it was very dark, we didn't pull over," she told WSVN.
But the next day, while running errands in Plantation, an even more startling thing happened: two giant yellow eyes blinked back at Williams from inside the grille of her SUV.
"There was a family that pulled in front of my parking space and flagged me down and said, 'Don't move, don't move, you have something in the grille of your truck,'...and they said, 'It's an owl!'" she said, adding, "I'm about to faint."
WHOOOOOO would get the bird out? Florida Fish and Wildlife officers, of course, who responded to William's call and popped the hood to extricate the Great Horned Owl from his accidental car cage.
Fortunately for owl's distraught chauffeur, officials told WSVN the bird appears to have suffered no injuries and is in good health. Check out the bird's precarious perch and rescue above.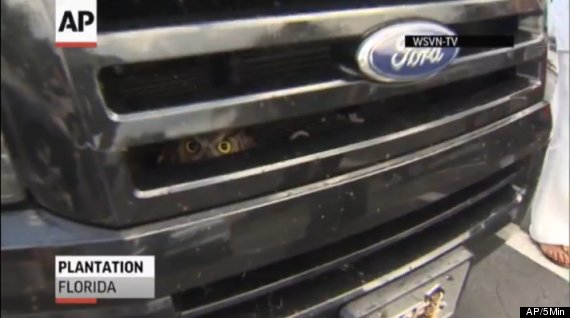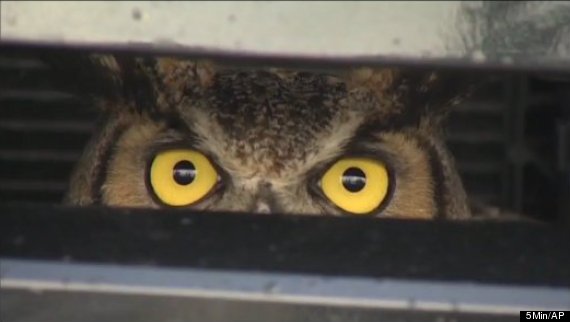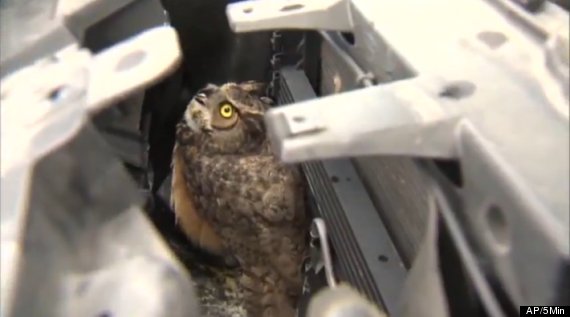 BEFORE YOU GO
PHOTO GALLERY
Awesome Animal Photos Of 2013