Artist Shurooq Amin isn't only trying to provoke. Through her work, the Muslim artist is attempting to present the taboos and paradoxes that exist for modern day Muslim women in Kuwait and beyond. As a divorced woman and provocative artist, Amin sees herself as a fighter and an outsider, a point of view she uses to capture reflections of the society around her. "I tackle the issues that need to be raised and discussed, and if they want to censor, let them censor away," she told Shaun Randol at the World Policy Institute.
Her latest exhibition at Ayyam Gallery in Dubai presents a fictional land of hyperbolized contradictions, most of which revolve around freedom and oppression. In "Popcornography," Arab women channel Western fashions and aesthetics in an effort to claim liberty and power. Yet combined with the inequality, censorship and lack of agency many women around the world face daily, the surface signs of independence can be empty gestures.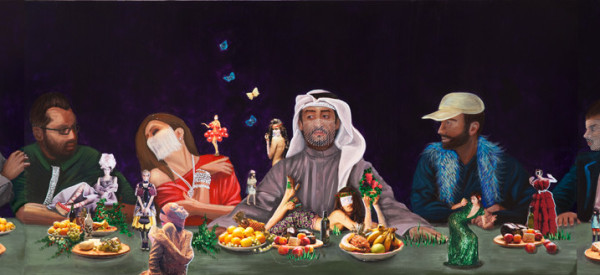 Detail of "The Last Straw" (2012). Courtesy of Ayyam Gallery and the artist.
Amin uses faux literature titles based on classic (and often banned) works to express her frustrations, including "Blind New World," "To Kill A Mocking Girl," and "Of Brides And Men." In Amin's explosive images, Western influences, from flesh-baring ensembles to shiny new Apple products, co-exist with images of oppression including bound hands, gagged mouths and veiled faces. In punchy, bright acrylics, Amin creates an alternate literary world where reality and satire intermix.
According to Ayyam Gallery, the artist is also known to illustrate "the hidden, hedonistic world and dichotomy of the Arab man: religious preacher, weekend alcoholic; political activist, well-known party-animal; conservative father, secret playboy."
"Popcornopolis" will show from March 14 until April 4 at Ayyam Gallery in Dubai. See a preview of the exhibition in the slideshow below, and let us know your thoughts in the comments.
PHOTO GALLERY
Shurooq Amin
BEFORE YOU GO