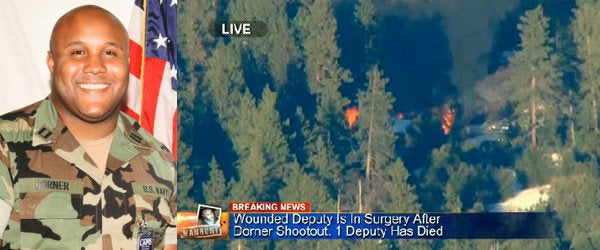 UPDATE: A California couple has come forward about their harrowing experience with the man they believed to be Chris Dorner.
Karen and Jim Reynolds revealed in a press conference Wednesday that they encountered Dorner Tuesday in their condo. He had a gun, but promised not to hurt them, claim the couple. Dorner tied them up, put pillow cases over their heads and then fled in their Nissan.
Previous reports had indicated that Dorner tied up a mother-daughter housekeeping pair and stole their car.
Police fielded more than 1,000 tips in their hunt for Christopher Dorner, but it was a wilderness encounter with two maids that sparked Tuesday's final operation to terminate the fugitive ex-LAPD officer, according to the Los Angeles Times.
Just after the maids saw the suspect, he tied the two up, took a car from the residence and left, according to a law enforcement official. One of the maids was eventually able to break free at the residence in the 1200 block of Club View Drive, close to Snow Summit and Bear Mountain Resort, and called 911 at 12:20 p.m.
The chance encounter set off a wild police chase culminating in the fiery destruction of a cabin where police believe Dorner had taken shelter. The violent exchange left one deputy dead and another wounded.
The San Bernardino County Sheriff's Office has yet to announce an official positive identification, but hours after the rubble cooled investigators recovered a wallet containing a driver's license with the name Christopher Dorner, according to the Associated Press.
For more on the Christopher Dorner Manhunt, CLICK HERE.
BEFORE YOU GO
PHOTO GALLERY
Christopher Dorner Manhunt