Cool Ranch Doritos fans and anti-fans who eat them anyhow, the wait for the blue-flecked taco of your dreams is almost over. Taco Bell announced Wednesday that it will be releasing the Cool Ranch flavor of its wildly popular Doritos Locos Tacos on March 7. That's in exactly three weeks. Mark your calendars!
Irvine, Calif.-based Taco Bell, the country's largest Mexican restaurant chain by far, made the announcement on its popular Twitter account and via a six-second video on Vine. Here's some promo art of the new tacos: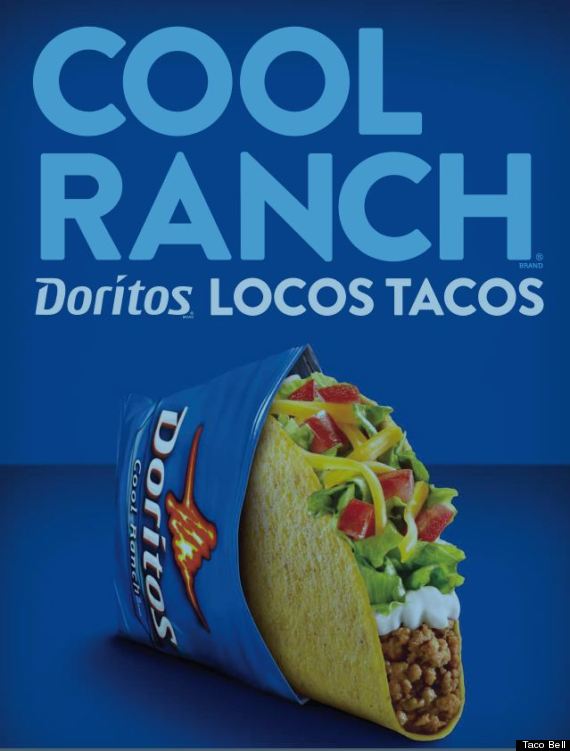 Taco Bell CEO Greg Creed explained the timing of the Cool Ranch debut in a statement:
"There has been enormous interest in the new Cool Ranch flavor of Doritos Locos Tacos and people are wondering why it took so long. Originally we had planned to launch the Cool Ranch flavor in the same year as the introduction of Doritos Locos Tacos. However, the demand for Nacho Cheese Doritos Locos Tacos was so strong that we worked closely with our partner Frito-Lay to increase our capacity and meet the needs of both Doritos Cool Ranch and Nacho Cheese fans."
Taco Bell announced, in the same press release, that it has sold an insane 350 million Doritos Locos Tacos (almost all of them Nacho Cheese flavored) since their debut March 8, 2012.
The announcement that Taco Bell would go national with the Cool Ranch Doritos Tacos exactly 364 days after the release of its Nacho Cheese sibling comes after many months of speculation on when they would show up. Rumors of the Cool Ranch Doritos were being circulated, as Creed implies, as early as spring of 2012.
The first definitive sign that Taco Bell would launch the new taco in 2013 came right at the beginning of January, when it tweeted a photo-mashup of a bag of Cool Ranch Doritos and a Doritos Locos Taco, appended with the note "Anything Could Happen In 2013." A few weeks later, Creed appeared on "CBS This Morning" to confirm that a second flavor of the Doritos Locos Taco would be in locations across the country soon. The company then revealed, in an earnings call, that the Cool Ranch taco shell would likely see the light of day sometime in March. But now we know exactly when! On the 199th anniversary of Napoleon's victory at the Battle of Craonne!
Amid all the feverish speculation about the release, one thing seems to have gotten a little lost: the actual taste of the taco. Cool Ranch, with its ambiguously sour flavor palate, doesn't meld as perfectly with the taste of ground beef, iceberg and shredded cheddar cheese as the original Nacho Cheese flavor does. But HuffPost Food will be getting an advance taste of the new flavor around noon Wednesday, so we'll be sure to let you know how it is soon.
BEFORE YOU GO
PHOTO GALLERY
Doritos Locos Experiments