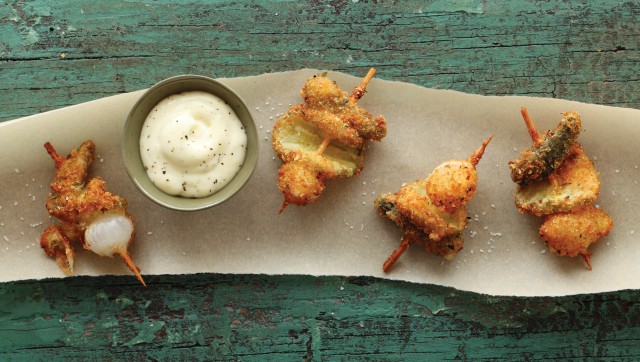 There are a lot of good things you can do with dill pickles. You can add them to your next peanut butter sandwich -- believe us, it's good. You can roll them up with cream cheese and ham for a quick snack. Or, you can batter and fry them to make our favorite fried pickle recipe.
If the fried-pickle craze has not made it to your part of the country, you should know that they're just about as amazing as onion rings; and if you're a pickle lover, then this fried pickle recipe is actually way better than any kind of fried onion. So take out the deep fryer and start getting the Ranch sauce ready, because fried pickles are worth cooking for.
Get the Fried Pickles with Ranch Dressing recipe
Want to read more from HuffPost Taste? Follow us on Twitter, Facebook, Pinterest and Tumblr.
Check out what else you can do with dill pickles.
PHOTO GALLERY
Recipes Featuring Pickles
BEFORE YOU GO