The 40 days of Lent that lead to Easter are the most sacred and spiritually powerful in the Christian calendar. From the Ash Wednesday reminder to 'remember that you are dust, and to dust you shall return,' to the the Stations of the Cross on Good Friday, to the joyful Easter song of 'Christ the Lord Is Risen Today' -- Lent is a time when Christians are invited to examine our faith, and deepen the commitment to live the Christian life.
[Scroll down to see our Lent liveblog.]
Starting on Feb. 13, Ash Wednesday until Easter on 31st March, HuffPost Religion offers you the opportunity to walk together with an online community of pilgrims through this season of grown and discovery. Each day HuffPost will be updating this liveblog with scripture lessons, prayers, music, poetry, hymns, ideas for charitable service and supportive comments and suggestions from fellow HuffPost Lent community members to help make your fast meaningful and powerful. We will be offering daily Lenten reflections by some of the most respected Christian voices who will share with you deep wisdom for your walk with Christ.
All are encouraged to share Lenten reflections and experiences with us. What does the season of Lent mean to you? What spiritual exercises and meditations do you practice during Lent? Whether you're observing Lent for the first time, or you've observed Lent your entire life, we want to hear from you. Send your personal reflections (300-500 words) and photos to religion@huffingtonpost.com. We are excited to embark on this journey with you.
May you have a blessed Lent!
Click through for some Lenten meditations
PHOTO GALLERY
Lent Meditation Slideshow
Week 1 of Lent (Feb. 13, 14, 15, 16)
Week 2 of Lent (Feb. 18, 19, 20, 21, 22, 23)
Week 3 of Lent (Feb. 25, 26, 27, 28, March 1, 2)
Week 4 of Lent (March 4, 5, 6, 7, 8, 9)
Week 5 of Lent (March 11, 12, 13, 14, 15, 16)
Week 6 of Lent (March 18, 19, 20, 21, 22, 23)
Holy Week (March 24 [Palm Sunday], 25, 26, 27, 28 [Maundy Thursday], 29 [Good Friday], 30 [Holy Saturday])
Easter Sunday
03/31/2013 12:44 AM EDT
Easter Greetings from the Bishop of London, The Open Episcopal Church
Dear Sisters and Brothers,
'The faithful' will this week devote numerous hours concentrating on the suffering of Jesus hundreds of years ago.
They may spend less time concentrating on the desperate plight of so many today.
Let us find Jesus crucified not on the cross of yesterdays old wood but in Syria, Afghanistan, Pakistan, Somalia, Palestine, Ethiopia, Mali, etc.
Let us find Jesus not in a Garden long lost, but sweating blood in the furnace of clerical child abuse and church homophobia.
Let us find Jesus not broken in bread and wine but torn apart as he sifts with the poor for food through the garbage on India's rubbish heaps.
Let us find Jesus tortured not in some kangaroo court of old but in Guantanamo Bay and America's Death Rows.
Let us find Jesus raised not in an Easter Garden but in what we do to help challenge and change corruption and to heal the casualties of this long struggle against evil.
In Christ's Love,
++Jonathan
Archbishop Jonathan Blake

The Open Episcopal Church

Bishop of London
03/31/2013 12:41 AM EDT
Easter Sunday: Gospel Reading of the Day
On the first day of the week, Mary of Magdala came to the tomb early in the morning, while it was still dark, and saw the stone removed from the tomb. So she ran and went to Simon Peter and to the other disciple whom Jesus loved, and told them, "They have taken the Lord from the tomb, and we don't know where they put him." So Peter and the other disciple went out and came to the tomb. They both ran, but the other disciple ran faster than Peter and arrived at the tomb first; he bent down and saw the burial cloths there, but did not go in. When Simon Peter arrived after him, he went into the tomb and saw the burial cloths there, and the cloth that had covered his head, not with the burial cloths but rolled up in a separate place. Then the other disciple also went in, the one who had arrived at the tomb first, and he saw and believed. For they did not yet understand the Scripture that he had to rise from the dead. (John 20:1-9)
03/30/2013 3:40 PM EDT
What Holy Saturday Is All About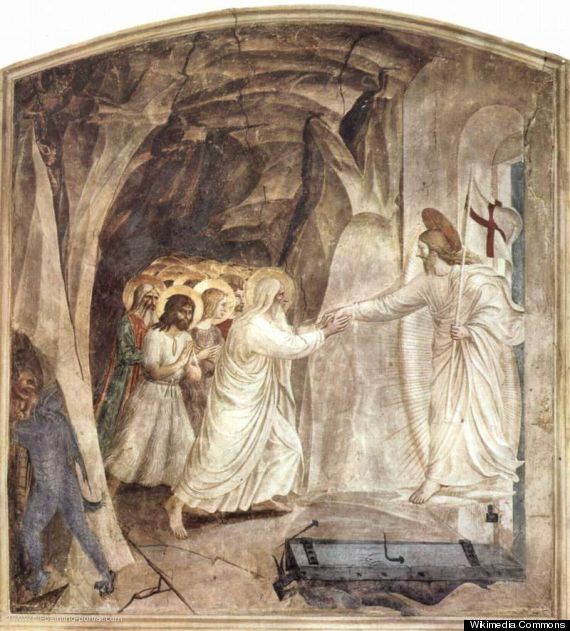 [Image: Fra Angelico's Christ's Descent to Limbo (ca. 1437-1446)]
From 1 Peter 3
For Christ also suffered for sins once for all, the righteous for the unrighteous, in order to bring you to God. He was put to death in the flesh, but made alive in the spirit, in which also he went and made a proclamation to the spirits in prison, who in former times did not obey, when God waited patiently in the days of Noah, during the building of the ark, in which a few, that is, eight people, were saved through water. And baptism, which this prefigured, now saves you -- not as a removal of dirt from the body, but as an appeal to God for a good conscience, through the resurrection of Jesus Christ, who has gone into heaven and is at the right hand of God, with angels, authorities, and powers made subject to him.
"The ancient Christian church," said the professor in his Irish accent, "celebrated the Triduum. Can anybody tell me what the Triduum is?"
No hands went up.
"I'll give you a hint: you might call it Holy Week."
"Ah," said one student, "it is the three days that begin on Thursday night and culminate on Sunday with Easter."
"Yes," nodded the professor. "What names do we give to those days?"
"Maundy Thursday."
"Good Friday."
"Easter Sunday."
"You're forgetting one," he said. "Holy Saturday."
"Huh?"
"Come on," he responded, "you confess the events of Holy Saturday every time you say the Apostles' Creed. What did Jesus do between Good Friday and Easter morning? He descended into hell. And what did he do there? Read 1 Peter 3, my friends. Christ preached. Christ brought the good news to those whom most think are beyond saving. And you thought he was just biding his time, waiting for Sunday. No, I tell you. He was busy. He was doing something very important."
Prayer:
Holy God, we are waiting for tomorrow. We need the light and joy of Easter in our lives. As we wait, remind us that our Lord is never satisfied leaving the lost in their personal hells. This Holy Saturday, focus us on the Christ who kicks down the gates of Hades and brings good news to us in the worst of circumstances. Hallelujah! This is the triumphant Christ whom we long to greet in the morning, fresh from his junket to hell. Amen.
The Rev. Dr. Scott Black Johnston is senior pastor of Fifth Avenue Presbyterian Church in Manhattan.
03/30/2013 3:04 PM EDT
Benedict XVI's Theology of Holy Saturday
At First Things, Tania M. Geist writes:
Benedict knelt in prayer before the Shroud of Turin, then spoke on the mystery of Holy Saturday, of which he saw the Shroud to be an icon. The meaning of Holy Saturday is perhaps especially dear to Benedict—between having been born and baptized on Holy Saturday of 1927, and having collaborated so closely with Hans Urs von Balthasar, whose theological imagination was certainly captured by the same mystery.

What resulted on that day in Turin in 2010 was a deeply pastoral account of Christ's death and Resurrection, which explored some of the same central messages that he recently revisited in the last days of his papacy.

In Turin, Benedict observed that "humanity has become particularly sensitive to the mystery of Holy Saturday," because the "hiddenness of God" has become so much a part of our contemporary experience of Christ that it functions existentially, almost subconsciously, in our spirituality. During a time when the problem of evil confronts us constantly, Benedict continued, we must all wrestle with Nietzsche's proclamation that "God is dead!": "After the two World Wars, the lagers and the gulags, Hiroshima and Nagasaki, our era has ever increasingly become a Holy Saturday. This day's darkness challenges all those who question life, and it challenges us believers in particular."
Continue reading here.
03/30/2013 2:58 PM EDT
Holy Saturday: Gospel Reading of the Day
At daybreak on the first day of the week the women who had come from Galilee with Jesus took the spices they had prepared and went to the tomb. They found the stone rolled away from the tomb; but when they entered, they did not find the body of the Lord Jesus. While they were puzzling over this, behold, two men in dazzling garments appeared to them. They were terrified and bowed their faces to the ground. They said to them, "Why do you seek the living one among the dead? He is not here, but he has been raised. Remember what he said to you while he was still in Galilee, that the Son of Man must be handed over to sinners and be crucified, and rise on the third day." And they remembered his words. Then they returned from the tomb and announced all these things to the eleven and to all the others. The women were Mary Magdalene, Joanna, and Mary the mother of James; the others who accompanied them also told this to the apostles, but their story seemed like nonsense and they did not believe them. But Peter got up and ran to the tomb, bent down, and saw the burial cloths alone; then he went home amazed at what had happened. (Luke 24:1-12)
03/29/2013 1:49 PM EDT
When Reilgion and Dieting Collide: What Did You Give Up For Lent?
Robin M. Masheb and Mary Clark Moschella write:
What did you give up for Lent? Chocolate or ice cream? Or perhaps some other high-fat, high-sugar, and relatively high-calorie "forbidden food?" For overweight people struggling with eating disorders, an important aspect of treatment involves incorporating small amounts of "forbidden foods" into one's diet on a regular basis. The rationale is to break the cycle of being "on a diet" or "off a diet."

Despite having this knowledge, when religious holidays with dietary restrictions or associations come around (it can be Yom Kippur for Jews or Ramadan for Muslims), patients are eager to give up something like chocolate or to fast for a holiday. All too often, underlying the religious practice of self-discipline is the thinking that this is a good way to lose weight.

In our class on Psychopathology and Pastoral Care at Yale Divinity School, we happened to be discussing eating disorders, and the contrast between our country's obesity crisis and the pressure to conform to the "thin ideal." A student asked how we could help young people, particularly girls, develop a healthy body image in an environment where two-thirds of our country is overweight and everyone idealizes women who wear a size two. In the context of this environment, how can one make a difference?
Continue reading here.
03/29/2013 12:47 PM EDT
A Good Friday Prayer
Prince of Peace, redeemer of us all, crucified God, we have gathered at the foot of the cross, and at the entrance to the tomb, and we have rolled the stone across it.
The world sometimes does it's worst, even to those who don't deserve it. You know that, because you once lived as one of us, loved as one of us, and died as one of us.
Today we leave, as your disciples did centuries ago, knowing our friend is gone, and that a good man has died.
The ones who knew you and loved you could find no consolation that night. They mourned. Just as there have been nights when we have mourned. Just as there have been nights when we have looked for mercy that didn't seem to come.
And yet, some would dare to look for hope…
God, as you send us out into the world today, stay close to us. As we wrestle with the big questions, as we ask why there is pain, why there is suffering, why there is loss, do not leave us alone. Help us to find you in our hours of greatest doubt.
And at the right hour, draw us back together. To gather at the tomb. To look for the light. To look for you. For hope, for you, we will be waiting. Amen.
- Rev. Emily Heath (@calledoutrev)
03/29/2013 12:45 PM EDT
A Meditation on the Crucifixion
On his Facebook page, Fr. Jim Martin offers a mediation on the crucifixion:
Dear friends: On this Good Friday, might I suggest a way of meditating on the Crucifixion? When Jesus hung on the cross, in addition to the terrible physical pain he endured, he may have also endured other kinds of pain. The pain of feeling abandoned by his closest friends. The pain of being misunderstood by so many. The pain of trying to do good but having people hate you in response. The pain of knowing that so many people had rejected God's message of love, mercy and forgiveness. But there is another kind of pain that has been meaningful to me of late.
Continue reading here.
03/29/2013 12:39 PM EDT
Good Friday: Gospel Reading of the Day
Jesus went out with his disciples across the Kidron valley to where there was a garden, into which he and his disciples entered. Judas his betrayer also knew the place, because Jesus had often met there with his disciples. So Judas got a band of soldiers and guards from the chief priests and the Pharisees and went there with lanterns, torches, and weapons. Jesus, knowing everything that was going to happen to him, went out and said to them, "Whom are you looking for?" They answered him, "Jesus the Nazorean." He said to them, "I AM." Judas his betrayer was also with them. When he said to them, "I AM, " they turned away and fell to the ground. So he again asked them, "Whom are you looking for?" They said, "Jesus the Nazorean." Jesus answered, "I told you that I AM. So if you are looking for me, let these men go." This was to fulfill what he had said, "I have not lost any of those you gave me." Then Simon Peter, who had a sword, drew it, struck the high priest's slave, and cut off his right ear. The slave's name was Malchus. Jesus said to Peter, "Put your sword into its scabbard. Shall I not drink the cup that the Father gave me?"
So the band of soldiers, the tribune, and the Jewish guards seized Jesus, bound him, and brought him to Annas first. He was the father-in-law of Caiaphas, who was high priest that year. It was Caiaphas who had counseled the Jews that it was better that one man should die rather than the people.
Simon Peter and another disciple followed Jesus. Now the other disciple was known to the high priest, and he entered the courtyard of the high priest with Jesus. But Peter stood at the gate outside. So the other disciple, the acquaintance of the high priest, went out and spoke to the gatekeeper and brought Peter in. Then the maid who was the gatekeeper said to Peter, "You are not one of this man's disciples, are you?" He said, "I am not." Now the slaves and the guards were standing around a charcoal fire that they had made, because it was cold, and were warming themselves. Peter was also standing there keeping warm.
The high priest questioned Jesus about his disciples and about his doctrine. Jesus answered him, "I have spoken publicly to the world. I have always taught in a synagogue or in the temple area where all the Jews gather, and in secret I have said nothing. Why ask me? Ask those who heard me what I said to them. They know what I said." When he had said this, one of the temple guards standing there struck Jesus and said, "Is this the way you answer the high priest?" Jesus answered him, "If I have spoken wrongly, testify to the wrong; but if I have spoken rightly, why do you strike me?" Then Annas sent him bound to Caiaphas the high priest.
Now Simon Peter was standing there keeping warm. And they said to him, "You are not one of his disciples, are you?" He denied it and said, "I am not." One of the slaves of the high priest, a relative of the one whose ear Peter had cut off, said, "Didn't I see you in the garden with him?" Again Peter denied it. And immediately the cock crowed.
Then they brought Jesus from Caiaphas to the praetorium. It was morning. And they themselves did not enter the praetorium, in order not to be defiled so that they could eat the Passover. So Pilate came out to them and said, "What charge do you bring against this man?" They answered and said to him, "If he were not a criminal, we would not have handed him over to you." At this, Pilate said to them, "Take him yourselves, and judge him according to your law." The Jews answered him, "We do not have the right to execute anyone, " in order that the word of Jesus might be fulfilled that he said indicating the kind of death he would die. So Pilate went back into the praetorium and summoned Jesus and said to him, "Are you the King of the Jews?" Jesus answered, "Do you say this on your own or have others told you about me?"
Pilate answered, "I am not a Jew, am I? Your own nation and the chief priests handed you over to me. What have you done?" Jesus answered, "My kingdom does not belong to this world. If my kingdom did belong to this world, my attendants would be fighting to keep me from being handed over to the Jews. But as it is, my kingdom is not here." So Pilate said to him, "Then you are a king?" Jesus answered, "You say I am a king. For this I was born and for this I came into the world, to testify to the truth. Everyone who belongs to the truth listens to my voice." Pilate said to him, "What is truth?"
When he had said this, he again went out to the Jews and said to them, "I find no guilt in him. But you have a custom that I release one prisoner to you at Passover. Do you want me to release to you the King of the Jews?" They cried out again, "Not this one but Barabbas!" Now Barabbas was a revolutionary.
Then Pilate took Jesus and had him scourged. And the soldiers wove a crown out of thorns and placed it on his head, and clothed him in a purple cloak, and they came to him and said, "Hail, King of the Jews!" And they struck him repeatedly. Once more Pilate went out and said to them, "Look, I am bringing him out to you, so that you may know that I find no guilt in him." So Jesus came out, wearing the crown of thorns and the purple cloak. And he said to them, "Behold, the man!" When the chief priests and the guards saw him they cried out, "Crucify him, crucify him!" Pilate said to them, "Take him yourselves and crucify him. I find no guilt in him."
The Jews answered, "We have a law, and according to that law he ought to die, because he made himself the Son of God." Now when Pilate heard this statement, he became even more afraid, and went back into the praetorium and said to Jesus, "Where are you from?" Jesus did not answer him. So Pilate said to him, "Do you not speak to me? Do you not know that I have power to release you and I have power to crucify you?" Jesus answered him, "You would have no power over me if it had not been given to you from above. For this reason the one who handed me over to you has the greater sin." Consequently, Pilate tried to release him; but the Jews cried out, "If you release him, you are not a Friend of Caesar. Everyone who makes himself a king opposes Caesar."
When Pilate heard these words he brought Jesus out and seated him on the judge's bench in the place called Stone Pavement, in Hebrew, Gabbatha. It was preparation day for Passover, and it was about noon. And he said to the Jews, "Behold, your king!" They cried out, "Take him away, take him away! Crucify him!" Pilate said to them, "Shall I crucify your king?" The chief priests answered, "We have no king but Caesar." Then he handed him over to them to be crucified.
So they took Jesus, and, carrying the cross himself, he went out to what is called the Place of the Skull, in Hebrew, Golgotha. There they crucified him, and with him two others, one on either side, with Jesus in the middle. Pilate also had an inscription written and put on the cross. It read, "Jesus the Nazorean, the King of the Jews." Now many of the Jews read this inscription, because the place where Jesus was crucified was near the city; and it was written in Hebrew, Latin, and Greek. So the chief priests of the Jews said to Pilate, "Do not write 'The King of the Jews,' but that he said, 'I am the King of the Jews'." Pilate answered, "What I have written, I have written."
When the soldiers had crucified Jesus, they took his clothes and divided them into four shares, a share for each soldier. They also took his tunic, but the tunic was seamless, woven in one piece from the top down. So they said to one another, "Let's not tear it, but cast lots for it to see whose it will be, " in order that the passage of Scripture might be fulfilled that says: They divided my garments among them, and for my vesture they cast lots. This is what the soldiers did. Standing by the cross of Jesus were his mother and his mother's sister, Mary the wife of Clopas, and Mary of Magdala. When Jesus saw his mother and the disciple there whom he loved he said to his mother, "Woman, behold, your son." Then he said to the disciple, "Behold, your mother." And from that hour the disciple took her into his home.
After this, aware that everything was now finished, in order that the Scripture might be fulfilled, Jesus said, "I thirst." There was a vessel filled with common wine. So they put a sponge soaked in wine on a sprig of hyssop and put it up to his mouth. When Jesus had taken the wine, he said, "It is finished." And bowing his head, he handed over the spirit.
Now since it was preparation day, in order that the bodies might not remain on the cross on the sabbath, for the sabbath day of that week was a solemn one, the Jews asked Pilate that their legs be broken and that they be taken down. So the soldiers came and broke the legs of the first and then of the other one who was crucified with Jesus. But when they came to Jesus and saw that he was already dead, they did not break his legs, but one soldier thrust his lance into his side, and immediately blood and water flowed out. An eyewitness has testified, and his testimony is true; he knows that he is speaking the truth, so that you also may come to believe. For this happened so that the Scripture passage might be fulfilled: Not a bone of it will be broken. And again another passage says: They will look upon him whom they have pierced.
After this, Joseph of Arimathea, secretly a disciple of Jesus for fear of the Jews, asked Pilate if he could remove the body of Jesus. And Pilate permitted it. So he came and took his body. Nicodemus, the one who had first come to him at night, also came bringing a mixture of myrrh and aloes weighing about one hundred pounds. They took the body of Jesus and bound it with burial cloths along with the spices, according to the Jewish burial custom. Now in the place where he had been crucified there was a garden, and in the garden a new tomb, in which no one had yet been buried. So they laid Jesus there because of the Jewish preparation day; for the tomb was close by. (John 18:1-19:42)
03/28/2013 9:50 PM EDT
Deus, Deus Meus
Text of Psalm 22 here.
BEFORE YOU GO