Lisa, 24, has been single for years. She loves to date and takes her sexual health very seriously. However, when it comes time to talk testing, things have been known to get awkward.
"I can get kind of shy," she said, admitting she's been with men and never brought up STDs because she was nervous. "Now, I can just send them a text message. It does the talking for me."
Yes, a text message. Lisa, who asked that only her first name be used in order to protect her privacy, is an frequent user of Qpid.me, a free website that helps anyone age 13 and up request their STD results from their doctor or clinic and share them with a potential partner via text message or an emailed link.
"We've generally been taught to keep this information very private, and this represents a paradigm shift," said site founder and CEO Ramin Bastani. "We think the shareability of that information -- verified information -- is absolutely critical," he said, likening the site to the "modern, flirtatious" version of "I'll show you mine if you show me yours."
Once users give sign up by providing some basic personal information -- like their name, age, phone number -- Qpid.me creates a records request that gets e-faxed to their doctor. When the results come back, users are able to share a one-time use link with anyone they want. The site shares results for HIV, gonorrhea, chlamydia, syphilis, hepatitis C antibody, as well as the HPV and hepatitis A vaccines, but does not include HPV and herpes status.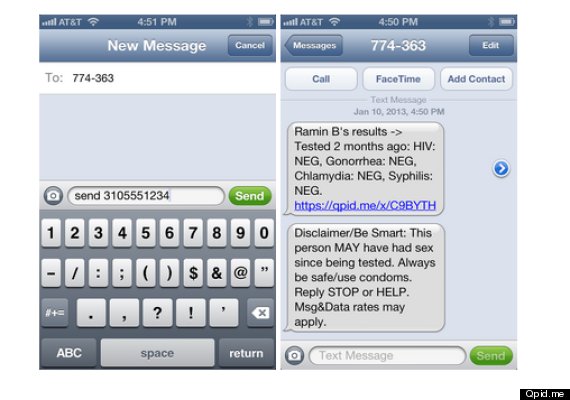 Proponents of the site say it empowers users to get and stay on top of their STD results in an easy way. For too long, health care providers have told patients that "no news is good news," said Dr. Jeffrey Klausner, a professor of medicine and public health at UCLA who serves as a medical advisor to Qpid.me.
"People have a right to that information," he said, adding that "anything that promotes more conversation, more dialogues and more transparency in sexuality is a good thing."
Qpid.me -- which joins other sites like U Should Know and inSPOT (the latter sends anonymous postcards from users to past sexual partners saying that the user has since been diagnosed with an STD) -- could also be a promising public health tool, Klausner said. The site speaks to a new, tech-savvy generation, he said. The Centers for Disease Control and Prevention estimates that 20 million new STD infections occur every year in the U.S., and half are among 15- to 24-year-olds. In young women, the consequences can be particularly devastating -- the CDC also estimates that undiagnosed STDs cause nearly 25,000 women to become infertile every year.
The site is also trying to make inroads in the booming e-dating scene. "A lot of people are using this [with] online dating," said Bastani. Reporting one's STD status has been popular practice on gay dating sites for years, he said -- people label themselves "DD free" or "drug and disease free." The hope, he said, is that this practice will pick up on other sites as well.
At the moment, the site is small. Though he would not give The Huffington Post hard numbers, Bastani said Qpid.me currently has thousands of users, but not tens of thousands. And there are questions about scaleability. The site depends on provisions in The Health Insurance Portability and Accountability Act of 1996 (HIPAA) that require doctors to release medical records to patients within a certain number of days, and some experts question whether practices have the manpower to send those records along in a timely manner if the site takes off.
"We just [wouldn't] have the administrative staff to really comply with that," said Dr. Alwyn Cohall, a professor of clinical population and family health at Columbia University's Mailman School of Public Health and director of the Harlem Health Promotion Center. "If you have a huge clinical program, like a Planned Parenthood or a city department of health site, I would see difficulties in being able to devote the time to get people these records." Indeed, Klausner said there have already been instances in which providers have not responded to requests for records.
The site also raises privacy concerns. Qpid.me says it takes "commercially reasonable technical precautions to help keep data secure," but Bastani said that there is no way to guarantee that it will never be hacked. But, he said, the site is completely opt-in; if people have any qualms about using it, they do not have to.
"Once your health information is released from your provider, it is no longer covered by HIPAA and it is usually not covered by state laws," said Alice Leiter, policy counsel for the non-profit Center for Democracy & Technology. "Services like this are great, but people need to go into it with their eyes wide open." Users assume a level of responsibility over their health records that they did not have before it was released by their doctor, she said. "The information is less secure than it was before it started getting emailed or texted around."
Lisa, who despite being an early adopter of the site insists she is not a "computer person" and does not embrace social media sites like Facebook, said that some female and male friends she's told about the site have been put off by concerns about privacy, but most have embraced it. One friend who uses online dating sites purely for "booty calls" absolutely loves the site, Lisa said. And all of the men to whom she's sent her results have responded in kind.
"It feels like of like you're a kid in grade school, and you throw a note at someone, like, 'Lisa's been tested two months ago. Here's the link you can use one time,'" she said. "For me, it's so much easier."
BEFORE YOU GO