"My mom went to buy bread and was coming back, and the sniper shot her."
Eight-year-old Turkieh stared at the ceiling while telling GlobalPost the story of her mother's death. Her family lived in Baba Amr, an opposition stronghold in the city of Homs that was sieged by the Syrian army for weeks in 2012. The bombings left most of the neighborhoods destroyed, residents told Reuters in the wake of the attacks.
Turkieh hasn't visited her mother's grave yet, as the family has not been told where the woman is buried exactly. "They buried her in Deir Balbe. But I don't know where," Turkieh said. She then switched the conversation and started talking about the snow in Homs this winter. "Do you remember after it snowed? We took off our slippers and ran. We'd race in the rain."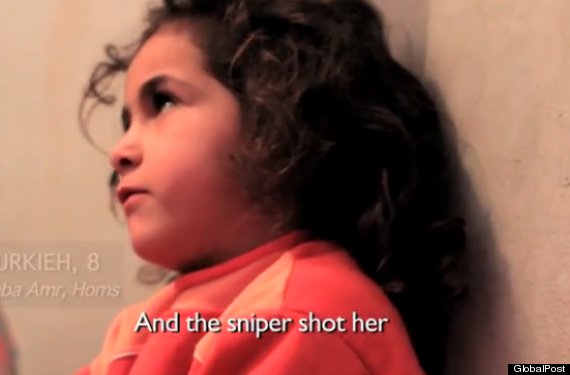 8-year-old Turkieh.
GlobalPost collected testimonies of the youngest victims of Syria's brutal civil war. The children recount witnessing massacres, nightmares about bombings, army raids and the deaths of their friends.
UNICEF, the United Nations' Children Fund, estimated at the beginning of February that 210,000 children in Homs are in need of immediate help. According to the U.N., 200 of 1,500 schools in Homs are damaged and more than 60 schools are used to shelter families.
Most of 11-year-old Ahmad's school mates are dead. "Some of them I used to play with in the streets are dead," he told GlobalPost. The boy claims to have seen many injured, some without heads or missing other body parts. "Some had been dead for three months, they were kept in a fridge until burial. They smelled very bad."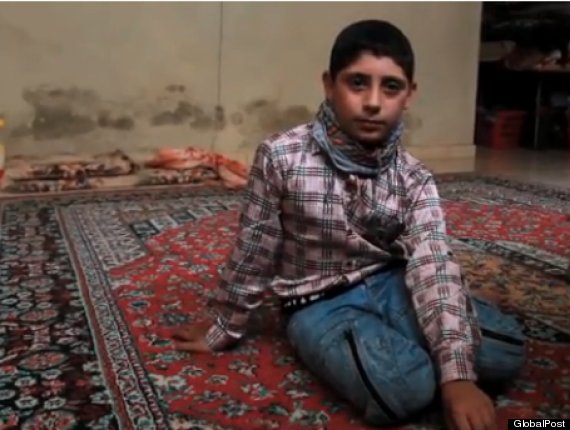 11-year-old Ahmad.
The U.N.'s Human Rights Chief Navi Pillay said on Tuesday that the death toll in Syria's conflict is nearing 70,000. More than 9,000 people have been killed in the country since the start of the year, the AP reports.
"The lack of consensus on Syria and the resulting inaction has been disastrous, and civilians on all sides have paid the price," Pillay said at the opening of a U.N. Security Council meeting.
Also on Tuesday, troops loyal to embattled Syrian President Bashar Assad suffered a major setback as rebels captured a military air base near the city of Aleppo.
"The airport was being used to bomb northern and eastern rural Aleppo. By capturing it, we have cut the regime's supply line from Aleppo to the east," opposition commander Abu Abdallah Minbij told Reuters. The commander claims that his troops captured two operational MiG jets and ammunition at the base.
Read more of GlobalPost's coverage of the war in Syria on GlobalPost.com.
BEFORE YOU GO
PHOTO GALLERY
Syria's Children