On February 12, 2013 President Obama spoke to the nation during the State of The Union Address. Soon after, Marco Rubio was live presenting the GOP's response to the president. Yet what got the most attention was when a parched Rubio briefly took a sip of water from a small Poland Spring bottle.
On ABC's "Good Morning America" Wednesday, Rubio explained: "I needed water. What are you going to do? God has a funny way of reminding us we're human."
Check out Lalo Alcaraz's take on what was behind that sip of water.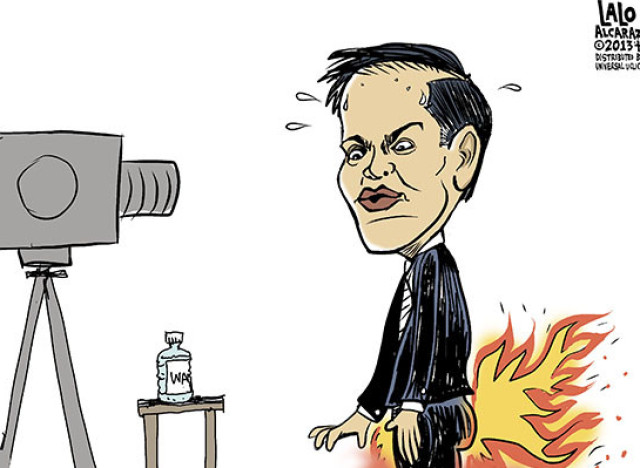 Scroll down to see more examples of Lalo's work.
About the artist:

Lalo Alcaraz is perhaps the most prolific Chicano artist in the nation, according to his own bio. Lalo has been busy for over two decades chronicling the political ascendancy of Latinos in America and vigorously pushing the boundaries of Chicano art in the Post Chicano Art Era.

An award-winning journalist and illustrator, Lalo is also an author, faculty member at Otis College of Art & Design in Los Angeles, and radio host. He is also the creator of the first nationally-syndicated, politically-themed Latino daily comic strip, "La Cucaracha."

Lalo's most recent project is a re-boot of the famed Pocho.com, his pioneering humor, satire and cerveza webzine/blog/news site.
PHOTO GALLERY
The Political Satire Comedy Of Lalo Alcaraz
BEFORE YOU GO