Brad Pitt and Angelina Jolie are about to embark on a new journey together -- owning a wine label. The Hollywood couple has partnered with the winemaking Perrin family and plans to release the first wine under their label, a rose called Miraval, in March.
The wine is made with organic grapes from the couple's 1,000-acre estate, Chateau Miraval, in Correns, France, which they purchased in 2011 after leasing the property for several years.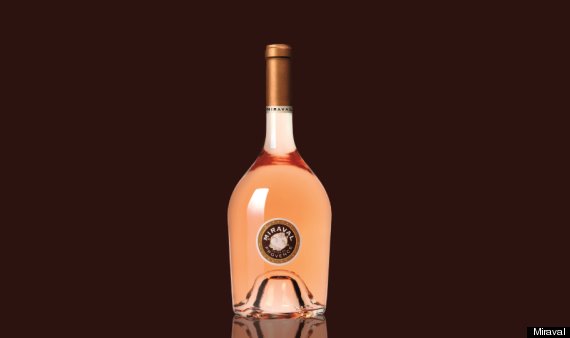 Miraval had previously been produced under the name "Pink Floyd," after the famous rock band. Pink Floyd recorded its famous album "The Wall" at the chateau's recording studio, Studio Miraval.
But the vintage won't be made in precisely the same way. Miraval will be aged in stainless steel tanks, which help impart a floral, white lily aroma and brighter flavor notes of strawberry and raspberry. The bottle's label will bear the names, "Jolie-Pitt and Perrin."
The Perrins are certainly the ones with wine expertise -- the family owns Chateau Beaucastel in the southern Rhone Valley and pioneered organic viticulture in 1950 -- but Pitt and Jolie were on hand for rose blending sessions and helped design the wine's sleek new bottle and black label.
The team plans to release white wines in the summer and reds in the near future. Decanter also reports that a project is in the works to graft some grape varieties like Mourvèdre to its Cabernet Sauvignon-Syrah blend, which had been used for the chateau's red wines, for added complexity.
Winemaker Marc Perrin explained Pitt and Jolie's winemaking ethos in an interview with Bloomberg. "If you knew Brad and Angelina, you would see they are in search of perfection in everything," Perrin said. "They're thinking long term."
Celebrity winemaking has been in vogue in recent years. Drew Barrymore, Fergi and Richard Gere are just a few names to get into the the wine game in 2012 alone. Hollywood elite are making a grab for beer and spirits, too, including Pitt pal George Clooney, who recently released his own line of tequila, Casamigos.
BEFORE YOU GO
PHOTO GALLERY
2012's Celebrity Wines, Beers And Spirits