A mural depicting President Barack Obama is back up on the wall of a Houston building just weeks after the painting was vandalized for the second time.
Created by artist Reginald C. Adams, the work was recently redesigned and repainted by members of the public who sought to reinstate the landmark outside Breakfast Klub in midtown, according to the Houston Chronicle.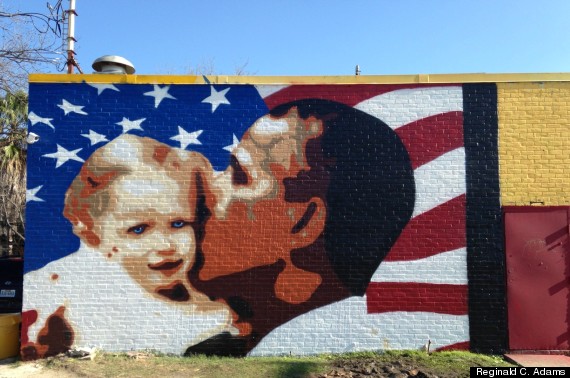 The mural was first painted in 2008, but has been defaced twice since October 2012. According to Fox 26, the first incident involved two masked men in a pickup truck pulling up to the mural and tossing mason jars filled with red paint on the artwork. Adams, who is also the co-founder of the Museum of Cultural Arts Houston, immediately put a fresh coat of white paint over the damage and updated the mural, but the portrait was once again hit by vandals this past January. The hooligans splashed it with black and green paint. (Is it a coincidence that these are also the colors of the Kenyan flag?)
All said, this if the fourth version of Adam's Obama mural and we think it's the best one yet.
PHOTO GALLERY
Unveiling The Bush Portraits
BEFORE YOU GO