Rep. Steve Cohen (D-Tenn.) said Thursday that the woman he tweeted during President Obama's State of the Union address is his daughter.
Cohen, who on Tuesday deleted several tweets sent to a young woman named Victoria Brink, told NBC News' Luke Russert that Brink is in fact his daughter.
According to NBC's Frank Thorp, Cohen had two photos taken at the White House Christmas party -- one with Brink, and one without -- because he had not yet made the news about his daughter public.
"When she let me know she was watching the State of the Union address I was thrilled that she wanted Steve Cohen to be part of her. I had such joy, that I couldn't hold back from tweeting her," Cohen told NBC.
The Democratic congressman says he found out about his daughter three years ago, after a searching Google for information about her mother.
"I Googled her mother, found out she had a child and the math looked pretty accurate," Cohen said. "The mom told me we had a lot of catching up to do."
Cohen's tweets to Brink, which were collected by the Sunlight Foundation's Politiwoops archive, raised eyebrows because of their intimate nature. After Brink tweeted to Cohen to tell him she had seen him on TV during the president's speech, Cohen sent two responses to Brink: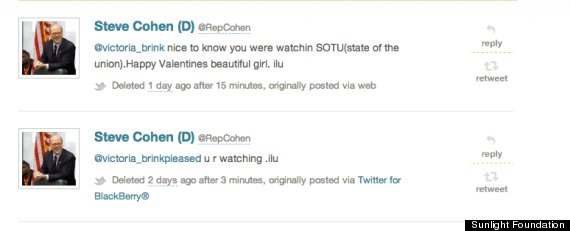 The tweets were quickly deleted.
In a Wednesday statement to New York Magazine, Cohen spokesman Michael Pagan said that Brink was the daughter of the congressman's friend.
"She is the daughter of a longtime friend and they're pretty much like family," he said. "He's known her pretty much her whole life. He has a longtime girlfriend in Memphis."
This post has been updated to include more information from NBC's report.
BEFORE YOU GO
PHOTO GALLERY
Candidates' Kids On The Campaign Trail