Valentine's Day is here and many of you are probably looking for some romantic ways to spend time with the people you love. Why settle for a crowded restaurant when you could stroll through an art exhibit instead? We've outlined the top 10 shows and events you won't want to miss this holiday, so get ready to impress your date or beloved friend with one of the arts-related outings below.
1. Tracey Emin's "I Promise to Love You" - Times Square, New York
British artist Tracey Emin is taking over Times Square with her digital homage to love, decorating 15 of the largest displays on the block from 11:57 to midnight every night this month. "This is my lonely hearts column which I'm sending out to America: I'm here, I'm single!" Emin says in the video below. (February 14-28, 2013)
2. Sleeping Eros - The Metropolitan Museum of Art, New York, NY
The Met recently completed a study on this iconic bronze statue, and the results are here for all to see. You might want to consider gazing upon this Hellenistic-era cherub and contemplating the Greek god of love this Valentine's Day. (On view until June 23, 2013)
Bronze statue of Eros sleeping (courtesy of the Metropolitan Museum of Art)
3. LA Art Walk - Art Walk Lounge, Los Angeles, CA
Art admirers in Los Angeles can celebrate Saint Valentine's big day in style. The release states: "Aryai's work captures the sensual delicacy of the feminine mystique combined with a rough course embellishment suggestive of Ancient Persia, transcending time and place, in a subconscious space that attracts and affects us all." Fans of "300" take note, this could be the art walk for you... (February 14, 2013)
4. "I Heart Cindy Sherman" - Walker Art Center, Minneapolis, MN
The Walker Art Center is giving a special holiday salute to Cindy Sherman by offering free admission to her exhibit on Valentine's Day. The artist's many faces are bound to provoke feelings of love and heartbreak alike, so get ready for mixed feelings, people. (November 10, 2012 - February 17, 2013)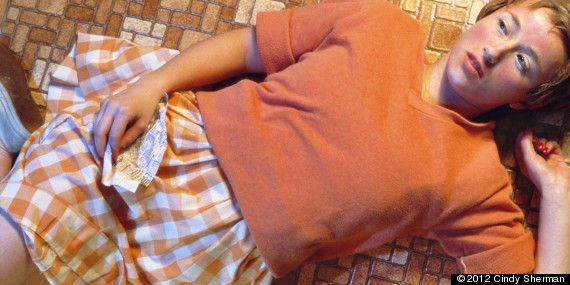 Cindy Sherman. Untitled #96. 1981. Chromogenic color print, 24 x 47 15/16" (61 x 121.9 cm). The Museum of Modern Art, New York. Gift of Carl D. Lobell © 2012 Cindy Sherman
5. The Cypriot Goddess Of Love Tour - British Museum, London, UK
Take a themed tour with Thomas Kiely, a representative from the museum's Department of Greece and Rome, who will treat you to an informational and romantic walk through the institute's collection of pre-Aphrodite statues. (February 14, 2013)
6. Heartwalk - Duffy Square, New York, NY
Heartwalk is a heart-shaped public art installation created from the boardwalks salvaged from New York and New Jersey after Hurricane Sandy. Visitors can actually walk into the middle of the display and stand in the "heart" of New York City on Valentine's Day. Cue "awwwws now, please." (On view now until March 8) 7. Heartbreaking Works Tour - National Portrait Gallery, London, UK
Feeling a little sentimental this Valentine's Day? Perhaps you are longing for lovers past? Historian Lucinda Hawksley is here to help, with a tour of the National Portrait Gallery's most heartbreaking artworks. (February 14, 2013)
8. A Celebration of Love & Peace - Ana Tzarev Gallery, New York, NY
Ana Tzarev's Valentine's Day art exhibit isn't just about love, it's also about peace and understanding. (Elvis Costello knows a thing or two about this, and you should too.) So if you'd like to incorporate a little global awareness with your holiday fun, this exhibit is for you.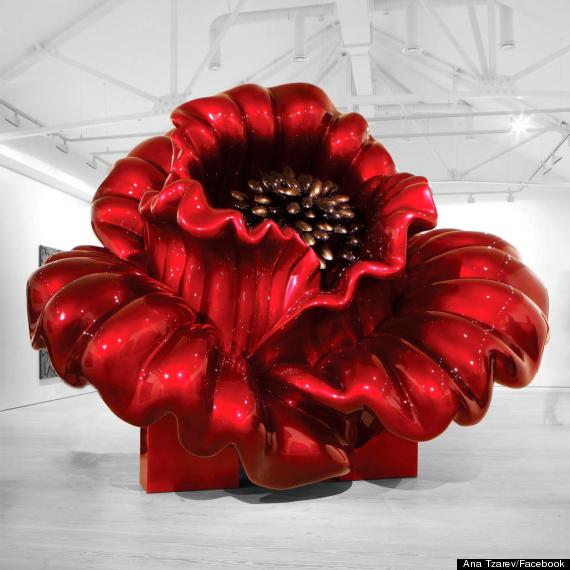 "Love", part of an ongoing exhibition series on view in London, New York, Shenzhen, and Rome
9. "Get A Room" - Bottleneck Art Gallery, Brooklyn, NY
We know some of you won't be able to celebrate Valentine's Day on a weekday, so if you are planning on delaying the festivities until this weekend, here is a Brooklyn art exhibit you won't want to miss... "Get a Room" pays homage to the greatest couples of our time, featuring famous duos like Roger and Jessica Rabbit. How could you resist? (February 15 - March 18, 2013)
10. "NYC 1993, Experimental Jet Set, Trash and No Star" - New Musuem, New York, NY
Why not celebrate Valentine's Day with one of the best years in recent history? All hail 1993! (On view now until May 26, 2013)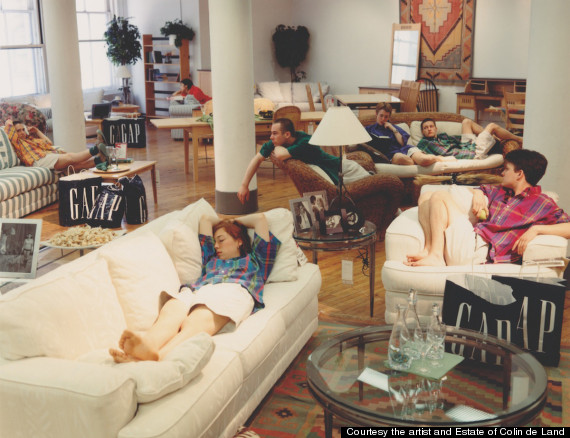 Art Club 2000, Untitled (Conrans I), 1992–93. Chromogenic color print, 8 x 10 in (20.32 x 25.4 cm). Courtesy the artist and the Estate of Colin de Land
While you're in the mood, here's a slideshow of the best kisses in art. It is Valentine's Day after all...
PHOTO GALLERY
'The Kiss: A Celebration Of Love In Art'
BEFORE YOU GO