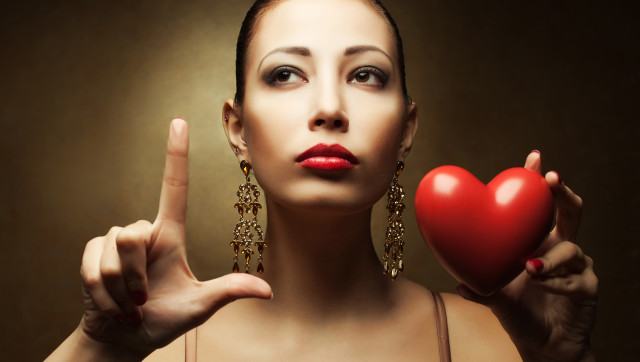 HuffPost Full Plate is single and more-or-less unconflicted about it, so Valentine's Day is really just significant to us in that it's one day before payday here at our headquarters. The same cannot be said of our most active group of correspondants: PR people. Publicists, eager to capitalize on the frenzy that social media seems to drum up around every minor bold-faced day on the calendar, have been badgering us for weeks with various pitches for "story ideas" or "products to feature in our Valentine's Day gift guides" or trends to "share with your readers."
So to kill two birds with one stone -- and simultaneously grant their wish for coverage and get a laugh out of you guys -- we've decided to compile all the products and events that PR people pitched us for Valentine's Day in one fell swoop.
Valentine's Day is a very big, very bad dining night. For that reason, PR people encouraged us to ask our readers to make Valentine's Day reservations at the following bars and restaurants: Dans le Noir, Triomphe, Eolo, the 40/40 Club, Sotto 13, the James Beard House and The Empire Room in New York; Ninethirty at the W Hotel in Los Angeles, Feast & Imbibe, "an underground supper club" in Evanston, Ill. and White Castle and California Pizza Kitchen, both of which have locations across the country.
What you really care about today, though, is sugar and alcohol. Likewise, since November 27, when the Valentine's Day pitches first started rolling in, we've gotten emails asking us to cover See's Candies, ZING vodka, Dunkin' Donuts heart-shaped donuts, Pisco cocktail recipes, chocolate-inspired ice creams from Salt & Straw in Portland, Ore., Moët & Chandon's Valentine's Day Gift Bag, Dairy Queen chocolate-covered strawberries, Skinnygirl cocktails, custom candy from ACandyStore.com, Samuel Smith's Organic Chocolate Stout, the Vegan Divas' vegan and gluten-free passion fruit cheesecake, a recipe for vegan and gluten-free chocolate mints from Zooey Deschanel's new cookbook, low-calorie cocktails involving Polar Seltzer, Baskin-Robbins' Conversation Heart Cakes and "The Primal Nature of V-day Dessert."
All that sucrose and ethanol is sure to give you a mean hangover the next day -- but no worries! Melitta's got you covered, with their "sleek, stainless steel" Thermal Pourover coffee maker. Or if you're too lazy to make your own, you can head down to Denny's, which just introduced a new kind of coffee.
And that's just the food-related ones. In addition, publicists have pitched (among many other items) a new dating app called Tinder, a new girls-only dating intelligence app called Lulu, Claire's Heart iPhone Cover, Merona Polka Dot Scarf in Navy/White, organic cotton bedding from Coyuchi, customized songs from Pop Star Parties NYC, the DVD of "Madly Madagascar" and a Digital Date with Chasing Mavericks on DigitalHD.
Of course, our readers will need some way to carry all these wonderful products -- and the PR industry has an answer even for that query. Several, actually. Specifically, the Spectra Global Carry-On, in red, from Victorinox, BUILT's Two Bottle Wine Tote and Bella Vita leather purses for special occasions. Plus, in case you buy all three, The Tote Buddy, "the first ever reusable bag organizer." How romantic!
BEFORE YOU GO
PHOTO GALLERY
Useless Kitchen Gadgets