Rapper 2 Chainz was arrested for marijuana possession in Easton, Md., on Thursday night, reports TMZ.
The rapper, whose real name is Tauheed Epps, was en route to perform at the University of Maryland Eastern Shore when the van he was traveling in with six other people was pulled over by the police. Gossip Cop reports that the 35-year-old was charged with possession of marijuana and drug paraphernalia, and was later released with a citation -- but not before he posed with the arresting officers for a photo.
2 Chainz took to Twitter after he was released and claimed the cops were "f*cking" with him. The rapper seemed to be in disbelief that he was arrested, claiming he didn't have weed on him at the time, just a grinder, which is used to crush weed before you smoke it:
We to jail for a grinder??? REALLY???

— Tity Boi (2 Chainz) (@2chainz) February 15, 2013
The rapper also insinuated that the cops locked him up so they could take photos with him after:
Locked me up and then Wanted pictures smh instagr.am/p/VvSPnWTYS7/

— Tity Boi (2 Chainz) (@2chainz) February 15, 2013
2 Chainz was also arrested last may at LaGuardia Airport after TSA agents found brass knuckles in his carry-on luggage, and was charged with fourth-degree criminal possession of a weapon. The rapper's friend Big Sean tweeted after the arrest that 2 Chainz wasn't carrying brass knuckles, but "it was a 4 finger ring that spelled hood. We had a shoot yesturday n he was rockin em."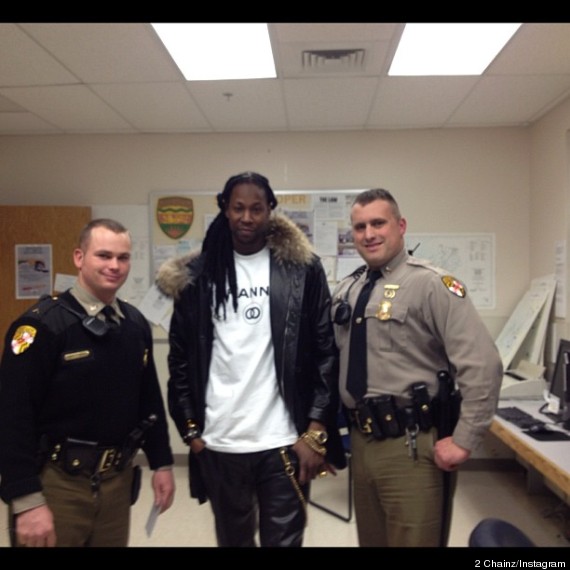 BEFORE YOU GO
PHOTO GALLERY
Celebrity Mugshots