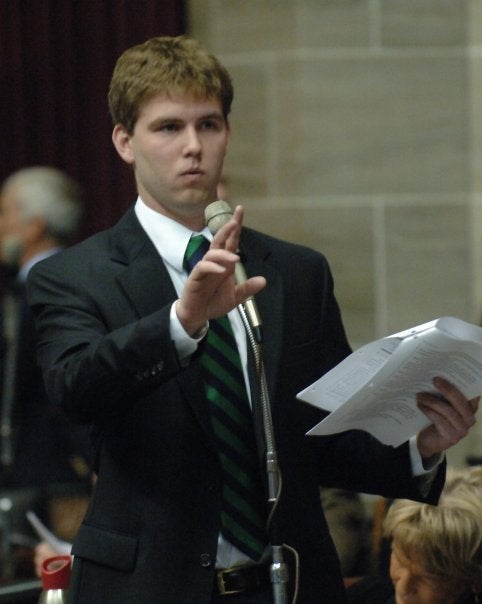 A Democratic lawmaker in Missouri has introduced a bill to ban discrimination based on sexual orientation in the state -- the fourth year he's pushed the bill.
The legislation, sponsored by state Rep. Stephen Webber (D-Columbia), would extend the state's human rights law to ban discrimination based on sexual orientation in providing housing, employment and public accommodations. Missouri already has banned discrimination based on sexual orientation against those seeking employment in the state's executive branch, which Gov. Jay Nixon (D) implemented by executive order in 2010. Webber stressed that the bill, introduced on Thursday, is needed for the Show Me State's lesbian, gay, bisexual and transgender population.
"Right now there are no federal protections," Webber told The Huffington Post. "If you are an LGBT individual you have no state or federal protections in this state."
This is the fourth year that Webber has introduced the legislation. He said every year the bill makes more progress, including an unsuccessful vote by the full House of Representatives in 2011; Webber said five Republicans joined him in pushing the legislation this year.
Webber also is getting support from Democrats who have shied away from associating with the bill in past legislative sessions, he said. Based on conversations with Republican colleagues, he believes there is more support there, but the issue is getting them to be public with it.
"There are Democrats and Republicans who are signing on who have not in the past," Webber said. "It is one of those things that politicians are trailing public opinion. The vast majority of people think it is illegal. There are Republicans who say it is the right thing privately but they don't have the courage to stand up to their party and stand up for what is right."
The Missouri bill was reintroduced on the same day that the North Dakota Senate voted down a similar proposal. North Dakota state Rep. Kylie Oversen (D-Grand Forks), a co-sponsor, noted that the law is needed not only to end discrimination but to address bullying towards LGBT youth.
Webber said with more states adopting marriage equality and taking up LGBT legislation, he can see a national push helping his legislation out in Missouri.
"All of the efforts we are doing across the country, we are moving the ball across the field," Webber said. "Every day we are getting closer to equality."
Even if he is unsuccessful this year, Webber said he plans to reintroduce the bill every year he's a legislator and that the goal is to keep up pressure on opponents. "They know they are on the wrong side of history. It is my job to continue to push and make them think abut their own courage. Eventually, we are going to win."
BEFORE YOU GO
PHOTO GALLERY
Anti-Gay Protesters Getting Owned