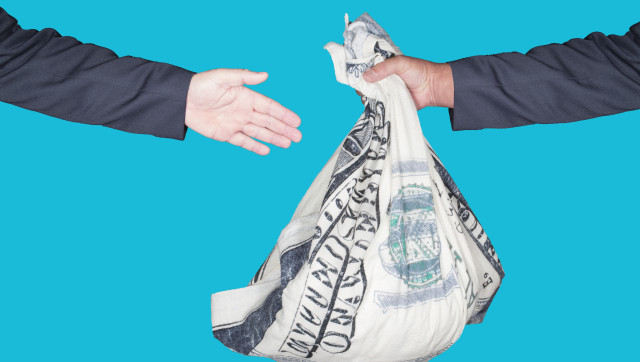 A humbled Allen Mead Ferguson, former head of the Craigie Inc. investment firm and well known for his local charitable efforts, was sentenced Friday to 14 months in prison for a $5.6 million fraud.
U.S. District Judge Henry E. Hudson also ordered Ferguson, 75, to pay more than $2.9 million in restitution owed banks as a result of his lying on loan applications. He was convicted of mail and wire fraud involving 13 applications to six banks over five years.
"He was generous in his donations," Hudson said of Ferguson. "Unfortunately, a lot of that was stolen money."
"It wasn't just an isolated act of indiscretion. ... It was a calculated scheme," Hudson said. "This was pure fraud, Mr. Ferguson."
Moments later, given a chance to address the court, Ferguson apologized to his wife of 47 years, his four sons, his many friends and to the banks.
"I was guilty. I pleaded guilty and I will live with that remorse for the rest of my life," he said.
Ferguson was charged with claiming nonexistent assets to obtain bank loans, and in pleading guilty he admitted that he lied on personal financial statements submitted to banks.
Ferguson's bankruptcy enabled much of the money to be paid back, but the outstanding loss still amounts to almost $3 million.
Nevertheless, nearly four dozen business, legal, charitable and community leaders -- some of whom are owed money by Ferguson -- wrote letters to the court on Ferguson's behalf in recent weeks.
Among those testifying for him were John Alfred Broaddus Jr., former president of the Federal Reserve Bank of Richmond; and Lewis F. Powell III, a partner at Hunton & Williams and son of the late U.S. Supreme Court Justice Lewis F. Powell Jr.
Ferguson was facing five to six years in prison under federal sentencing guidelines, but prosecutors and his lawyers asked for a lesser punishment because of his age, his cooperation and his lack of a criminal record.
Prosecutors sought three years behind bars and Ferguson asked for three years of home detention. Hudson agreed to lessen the punishment to a range of 12 to 18 months in prison and then listened to arguments from both sides.
Assistant U.S. Attorney Jessica Aber Brumberg asked for 18 months. She said she was not aware of any white-collar criminal who didn't believe their schemes would turn out well in the end.
She was referring to a statement made by one of Ferguson's lawyers earlier in the hearing. The attorney said that Ferguson believed he had enough assets to cover his borrowing. "He did not intend for (the banks) to be holding the bag."
Brumberg pointed out that Ferguson was a longtime CEO. "He was and is sophisticated. ... He knew better than the average borrower that his lies would have consequences."
"He is no different from any other criminal that comes before this court," Brumberg said.
Richard Cullen, one of Ferguson's lawyers, told Hudson that any stolen money given to charity would have been a relatively small amount and donated not long before things unraveled.
Cullen, a former U.S. attorney and Virginia attorney general, asked Hudson to impose 12 months and a day and that at least part of it be served in home detention instead of in prison.
"He is, no disrespect, an old 75," said Cullen, referring to Ferguson's medical problems, which include a recent knee replacement.
Cullen acknowledged Hudson's concern that the scheme involved 13 applications over five or six years.
But, Cullen said, "it was, in essence, one lie, one bad lie ... that was used multiple times."
"Nobody can fall any farther than Mr. Ferguson and his family. They have lost their home," among many other things, and they are living in a three-room house provided by friends, Cullen said.
"This case cries out for leniency," he added.
In the end, Hudson imposed 14 months for each of the convictions, to run concurrently, and Ferguson was allowed to remain free until March 18, when he is to report to authorities.
Neil H. MacBride, the U.S. attorney for the Eastern District of Virginia, said afterward that "Mr. Ferguson was a prominent member of the Richmond community who chose to steal millions of dollars to maintain his social status."
"Today's sentence sends a message that regardless of one's position in life, no one is above the law," MacBride said.
fgreen@timesdispatch.com
(804) 649-6340 ___
BEFORE YOU GO
PHOTO GALLERY
Weapon Of Choice