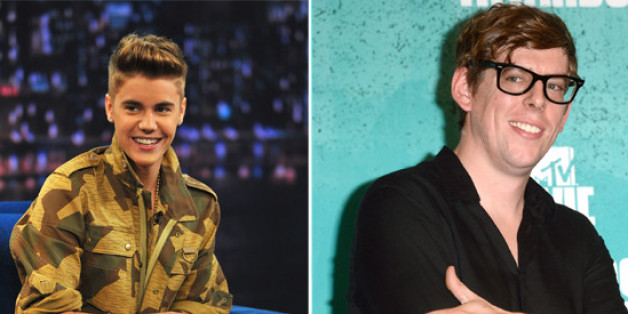 The bizarre feud between pop heartthrob Justin Bieber and The Black Keys' drummer, Patrick Carney, continues.
The fight began after the Grammys last week when Carney was asked about Bieber's lack of Grammy nominations. "He's rich, right?" Carney said. "Grammy's are for music, not for money. He's making a lot of money. He should be happy, I guess."
Soon after, Bieber responded, posting on his Twitter that "The Black Keys drummer should be slapped around."
At first Carney seemed remorseful, posting on his Twitter, "It's cool when you get cornered outside your hotel by a guy with a camera and they ask you a dumb question and then put it on TV. :(" He also responded to Bieber's comments with a sad face.
Things took a turn, however, when Bieber's Beliebers started attacking Carney on Twitter, saying things like "he needs a punch in the face with a brick," " just die.. DIE," and accusing Carney of being a closeted gay man.
Carney has now responded by changing his Twitter name to Justin Bieber and using a picture of The Biebs in hipster frames much like his own as his icon. He is responding to tweets of death threats from Biebers' fans and emulating the teen star with tweets reading, "To all my peoples U make make my life so full of swag. I swag out all day just thinking about all the swag u guys inspire me to swag with."
While Bieber wasn't nominated for a Grammy award this year, The Black Keys had a successful night, winning Best Rock Performance and Best Rock Song for "Lonely Boy," and Best Rock Album for "El Camino."
PHOTO GALLERY
Grammy Awards 2013
BEFORE YOU GO