We're very excited to syndicate one of our favorite columns, 'What Is It? What Is It Worth?' from one of our favorite magazines, Country Living. All text and images below are provided by Country Living. Get ready to be surprised!
I paid $500 for this little chest of drawers at an antiques show. Did I overspend? -B.L., Oneonta, New York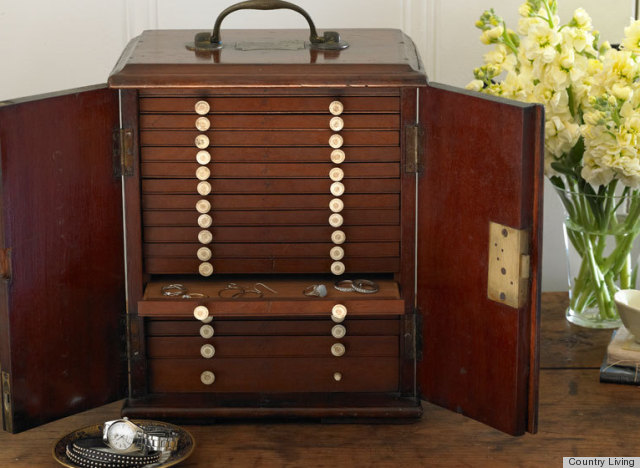 1870s Watchmaker's Cabinet
Professional appraiser Helaine Fendelman identifies and evaluates your collectibles and antiques.
To the contrary! You scored big on this fascinating mahogany case. Though the 12-inch-tall cabinet bears no maker's mark, a brass label on the top reads "F.Herbert Blockley, 1879," which suggests the trunk was crafted in London, where a man of that name partnered with fellow watchmaker George Lund to form Lund & Blockley in 1869. Best known for its waterproof explorer watches (developed for polar and tropical expeditions), the firm experienced fleeting success before going broke in 1887. Your chest's 18 numbered drawers once kept watch parts organized; locking doors secured the contents during travel. Missing only one ivory knob, the cary remains in great shape and commands and estimate nearly double your purchase price.