Anna Lamb-Creasey of Clayton County, Ga., learned of her son's death almost a month after it happened. But she didn't see it on the news or hear it from a neighbor. She found out from a Facebook message sent by a police-controlled masquerade account, reports Atlanta-based news outlet WSBTV.
Lamb-Creasey's son, Rickie Lamb, was killed by a vehicle in Forest Park in the last week in January. It wasn't until Valentine's Day that she found out he had died, according to a post she wrote on the fundraising website set up for her son's funeral.
Clarence Cox, a spokesperson for the Clayton County Police, told The Huffington Post over the phone Tuesday that police sent the Facebook message to the distraught mother from an account bearing the name "Misty Hancock" and a profile photo of rapper TI. The account had been used previously "in an undercover capacity," Cox said. "We had no intention of it getting out all over the media like this."
Cox also said police "had used all the traditional methods" to locate Lamb-Creasey before sending the Facebook message, even sending officers from other jurisdictions to the multiple addresses listed for Rickie Lamb's family.
Lamb-Creasey, who called hospitals and jails to locate her son, told WSBTV that when she gets a message from someone she isn't Facebook friends with, the message gets filtered. The local channel said it was Lamb-Creasey's daughter, who also received the Facebook message from police, that learned of Rickie Lamb's death after responding to the message.
(Story continues below.)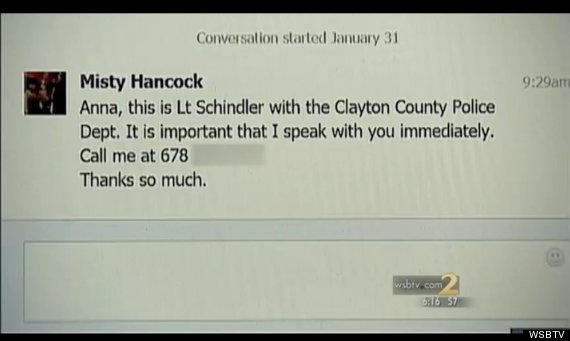 The message sent by police.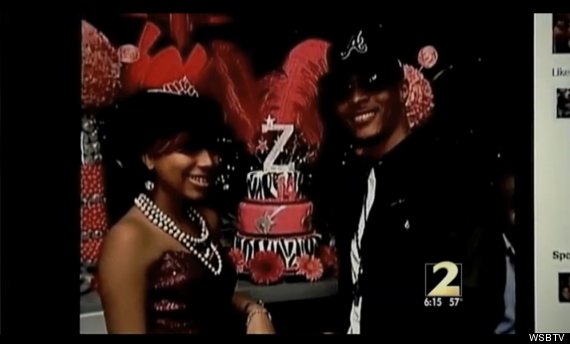 The profile photo for the "Misty Hancock" account.
While it's odd for police to use Facebook to notify family members of a death, the social network is increasingly becoming the first source of information about the passing of a loved one.
In November the Associated Press told the story of a married couple, living near Atlanta, who were forwarded a Facebook post informing them of the death of their 17-year-old daughter. The college freshman had been found dead on a dormitory couch at Valdosta State University, 250 miles south of the couple's home.
A few months earlier, HuffPost covered the story of military wife Ariell Taylor-Brown, who learned of her husband's death in Afghanistan after receiving a Facebook message from a fellow soldier in her husband's platoon, who broke protocol in sending the message.
BEFORE YOU GO
PHOTO GALLERY
Most Common Facebook Scams