A Belleville, Ill., woman claims her 4-year-old daughter found a baggie full of a white substance on the carousel of a Chuck E. Cheese in Fairview Heights on Sunday. She told Fox local affiliate KTVI that management refused to call the police when she alerted them to the matter.
The woman, who did not wish to be named, told KTVI that when she brought the baggie to the manager's attention he "didn't want to call the cops or anything," and instead asked her to throw the item away, which she did.
Jennifer Reeves, a spokesperson for Chuck E. Cheese, provided this statement to The Huffington Post:
We are aware that a guest found an unknown substance in our Chuck E. Cheese's location in Fairview Heights, Ill., on Sunday evening. Our store management personnel were notified and the substance was immediately disposed of by the guest. As such, law enforcement could not verify the nature of the substance.


For more than 30 years Chuck E. Cheese's has celebrated the joy and innocence of childhood, and we want to assure parents and caregivers that we take great measures to provide a safe experience for the children and families have in our stores. Many of the measures we have in place – such as our Kid Check program, employment of security guards, active security camera systems and additional safety precautions – are transparent to our guests to encourage an environment Where a Kid Can Be a Kid.
Fairview Heights Police Detective James Mason told HuffPost that, although a police report on the incident had been filed, it's still unclear whether the white substance was actually a drug.
"Because of the time frame of which it was reported and the fact that it was thrown away, we weren't able to determine whether it was a controlled substance or not," Mason said.
This incident isn't the first time there's been criminal activity at a Chuck E. Cheese in Illinois. CBS Chicago reported in December that a man emerged uninjured from an incident in which two men opened fire on him in the parking lot of a Chuck E. Cheese in Oak Lawn. In October CBS reported that a 19-year-old Chuck E. Cheese employee in Chicago was charged with allegedly stabbing a customer with a box cutter in a dispute over a salad plate.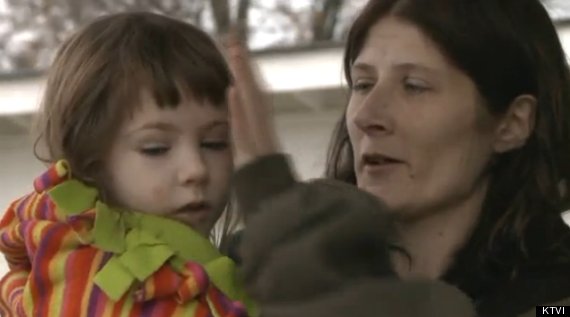 A Belleville, Ill., mother says her 4-year-old daughter found a "white substance" at a Chuck E. Cheese in Fairview Heights on Sunday. (credit: KTVI)
BEFORE YOU GO
PHOTO GALLERY
Bizarre Products, 2012 Edition