Music fans are buzzing about recent links via Twitter that claim to be bits and pieces — including the headliners — of the 2013 Lollapalooza lineup.
In early February, the Twitter handle @TheLollaLeaker started dropping hints, clues and bold-faced names that include Kendrick Lamar, Steve Aoki and Blur for the three-day music blowout in Chicago this coming August.
(4/1/13 UPDATE: Read the latest Lollapalooza lineup news.)
(Scroll down to see more of the rumored 2013 Lollapalooza performers.)
What adds arguable weight to the 2013 round of "leaks" is a second account, @AgentOfLolla. @TheLollaLeaker has been trying to drum up followers in exchange for lineup revelations, meting out names over the course of several days.
Friday night, @AgentOfLolla skipped the baiting, tweeting:
@thelollaleaker Haven't you let them suffer enough? i.imgur.com/xNsQPlX.jpg

— Agent X (@AgentOfLolla) February 16, 2013
The @AgentOfLolla uploaded what looks like a screen grab of a Lollapalooza lineup, with several of the names @TheLollaLeaker mentioned appearing on the bill: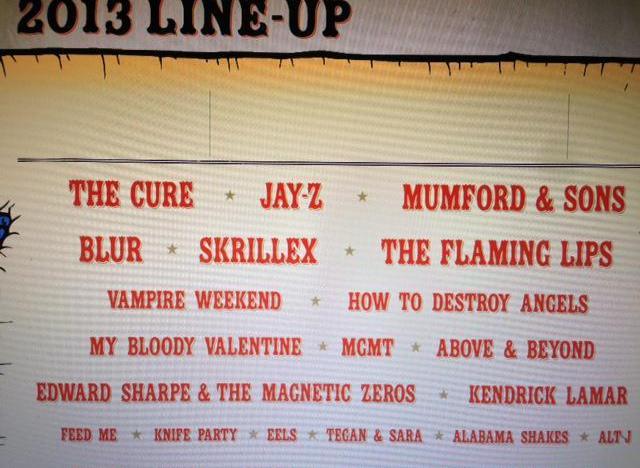 The rattled-sounding original leaker asked @AgentOfLolla to send a direct message, calling the situation "extremely serious." The less-than sympathetic response?
@thelollaleaker What want me to take it down? Welcome to the internet, it's not going anywhere

— Agent X (@AgentOfLolla) February 16, 2013
@thelollaleaker I got it from the same guy you got it from and he's PISSED lol

— Agent X (@AgentOfLolla) February 16, 2013
Music blog The Sights And Sounds rounded up all of the bands named so far in the supposed leaks and has three additional screen grabs taken from now-deleted tweets showing blurred-out band names from a purported lineup.
Chicago magazine reported Monday they had reached out to Lollapalooza for comment and were waiting on a response while noting that none of the bands mentioned in the leaks "seem to be committed to any other concerts for the first weekend in August."
Skepticism over the credibility of the "leaks" is high after the 2012 Lollapalooza lineup hoax in which a different Twitter account revealed supposedly leaked bands — and royally irking Lolla creator Perry Farrell in the process — before outing himself as fraud via Tumblr.
PHOTO GALLERY
Lollapalooza 2013 Lineup Confirmed
Lollapalooza is August 2-4 in Grant Park in Chicago. An official lineup for the festival is typically announced in April.
BEFORE YOU GO
PHOTO GALLERY
Lollapalooza 2012