After the Twitter accounts for both Burger King and Jeep were hacked over a two-day period, you're likely to take @MTV and @BET at their word when the accounts write that they have been hacked as well. Well, don't get suckered in: A spokesperson at Viacom, which owns both music-oriented cable networks, told The Huffington Post that the whole thing is joke.
"It's a coordinated gag between the social team for MTV and our sister channel, BET," Kurt Patat, a vice president at MTV Networks, said over the phone. "It's all in the spirit of good fun." The "hacks" were set up to look as though MTV had taken over BET's Twitter account, and vice versa.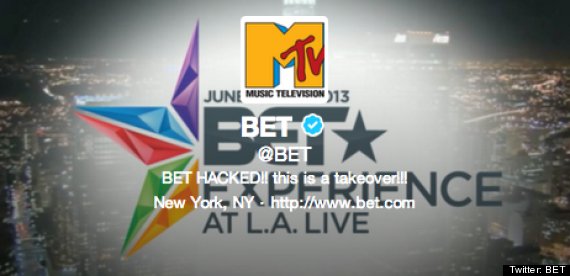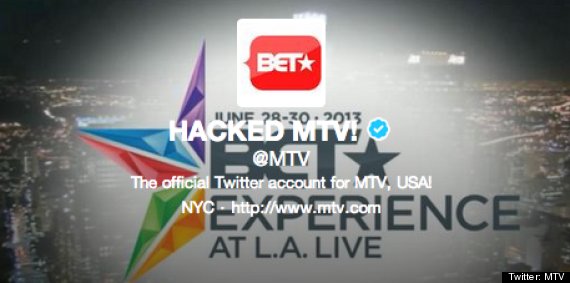 Before MTV came clean with the joke on Twitter, observers were suspicious that the "hacks" were fakes, since both cable stations are owned by the same parent company, Viacom. @MTV changed its name to "HACKED MTV!" while @BET updated its bio to read "BET HACKED!! this is a takeover!!!" Some weren't happy to the channels making light of hacking.
It's a stunt. Unfollow them both. RT @journodave: Both @bet and @mtv are owned by the same company.

— Andrew Kaczynski (@BuzzFeedAndrew) February 19, 2013
So, I guess we can blame @mtv and @bet for chicken littling with their fake hack PR stunt. This is why we can't have nice things.

— Jacqui Cheng (@ejacqui) February 19, 2013
OMG we hacked ourselves because it's the cool thing to do! yfrog.com/h2tdxup

— Denny's (@DennysDiner) February 19, 2013
Of course, many more were pleased with the horseplay on Twitter. And the stunt may still pan out well for MTV and BET. After its hack, Burger King gained about 60,000 new followers, the magazine CIO noted.

BEFORE YOU GO
PHOTO GALLERY
15 Things Twitter Tells Us About Humanity