We love a naughty headline now and then, but last week college newspapers might have pushed the limit.
LSU's The Daily Reveille celebrated the school's basketball team's 64-46 victory over the South Carolina Gamecocks Thursday with the headline "Cock Blocked."
Collegespun noted that the paper decided to forgo the provocative title in its online edition but gave the paper props for its "admittedly funny" pun after Valentine's Day.
(Story continues below)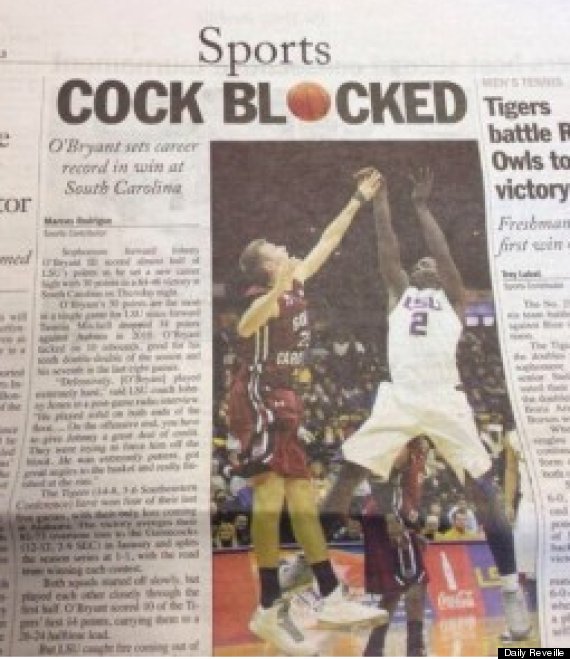 Earlier in the week, a mischief-maker stole the Blue Devil mascot head from Duke and placed it on the campus of rival North Carolina. But it was the coverage of UNC's Daily Tar Heel -- namely, the headline "UNC Gets Head From Duke" -- that caught the attention of some media watchers.
"Possibly the most perfect headline in the history of SEO" Charles Apple of the American Copy Editors Society gushed.
On his own blog, former Poynter Institute blogger Jim Romenesko reached out to Daily Tar Heel editor Andy Thomason for the who, what, where, why and how of the headline. Thomason credited the story's author, Melvin Backman, and another staffer, Sarah Glen, for omitting the word "mascot" from the title.
Tarheelblog.com, naturally, approved as well: "Daily Tar Heel doing journalism proud and putting out the greatest headline ever."
What do you think of the raunchy headlines? Smart or sophomoric?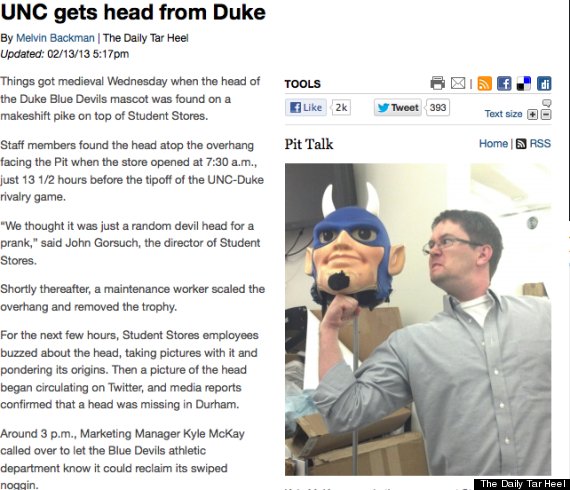 BEFORE YOU GO