Friends and family will gather at a private memorial service Thursday to celebrate the life of Dr. Jerry Buss, the long-time owner of the Los Angeles Lakers. The ceremony will take place at the Nokia Theater in downtown LA at 3 p.m.
While the event is closed to the public, Laker fans can watch the service live online at KTLA.com or on TV at KTLA.
Since his death Monday, former and current Lakers players have come forward to marvel at the flamboyant franchise owner, offering memories about his uncanny ability to capture fans' imaginations with championship teams and praising him for revolutionizing the NBA sports business.
In a press conference Tuesday, Lakers star Kobe Bryant noted that Dr. Buss never sought the limelight and always wanted to be seen as part of the team. "It's always been Dr. Buss along with the players and the accomplishments the team has had," said Bryant. "He hasn't got that standing ovation."
"He was a leader for our team, for this franchise and for this city," player Pau Gasol added. "He was someone you'd enjoy being around."
Magic Johnson, leader of Dr. Buss' "Showtime" Lakers in the 1980s, took to Twitter on the day Dr. Buss died to remember his "second dad."
"I was 19 when I first met Dr. Buss and for 34yrs he has been a father figure and best friend," tweeted Johnson. "This is a great loss for the LAKER NATION–1st the legendary Chick Hearn and now my 2nd dad, the beloved Dr. Jerry Buss. I LOVE you Dr. Buss!"
In addition to the memorial service, the Lakers plan to honor their late franchise owner two more ways. Wednesday, the Lakers will remember Dr. Buss before their game with the Boston Celtics, reports AP. The team will also be sporting a commemorative patch with Dr. Buss' initials on their jerseys for the remainder of the season.
"In Lakers Purple and Gold, the patch will be two inches tall, and be placed on the right side of the player's jerseys above the Lakers logo," notes the team's site.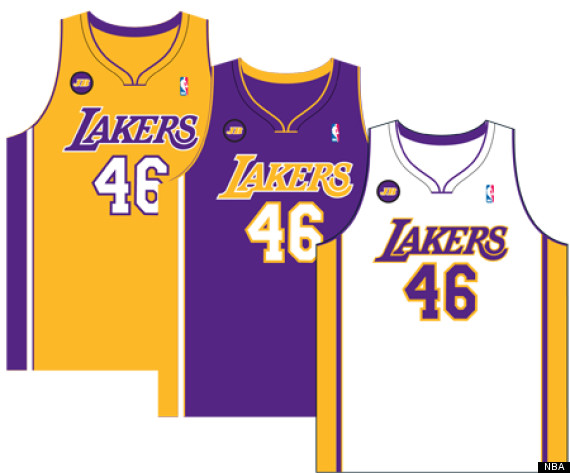 The Lakers published an infographic about Dr. Buss' life, highlighting his contributions to USC's Department of Chemistry and his star on the Hollywood Walk of Fame in addition to the Lakers' 10 championship wins under his tenure.

Infographic by J Alexander Diaz via Lakers.com.
Angelenos posted moving tributes to Dr. Buss' legacy on Twitter. Scroll through to see their messages and add your own in the comments below.
PHOTO GALLERY
LA Reacts To The Death Of Dr. Jerry Buss
BEFORE YOU GO