He's only 9 weeks old, but Chesty has some big paws to fill.
The English bulldog has been selected to serve as the official mascot for the U.S. Marines Corps, ABC reports. But before he earns the title Pfc. Chesty XIV on March 29 –- and takes on a host of public service duties, including marching in parades -- he'll have to undergo obedience training.
The adorable Chesty. Story continues below.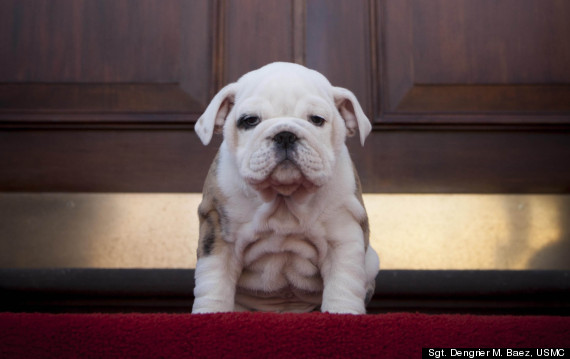 While he may be sweet looking, the pooch is actually named for one of the fiercest generals in U.S. history, Lt. Gen. Lewis "Chesty" Puller, according to Military Times. Puller earned five Navy crosses during the course of his career and spent all but 10 of his 37 active-duty years serving at sea or overseas, according to Military.com. He even volunteered in Vietnam when he was 73.
When he passed away in 1971, Puller said his final wish was to "see the face of every Marine I served with one last time."
As to why the Marines have such a strong connection to canines, and bulldogs specifically, well, that stretches back to World War I. According to Marion F. Sturkey, author of the "Warrior Culture of the U.S. Marines," the Germans called the fighting Marines "Devil-Dogs." Soon after, the Marines started featuring bulldogs on their recruiting posters because of their tenacious personalities and in 1922, the military's first bulldog was officially enlisted.
This Chesty-in-training comes from five generations of championship bulldogs bred by a mother-daughter team in Virginia, according to the Military Times.
BEFORE YOU GO
PHOTO GALLERY
Marine Mascot Has Long List Of Service Duties