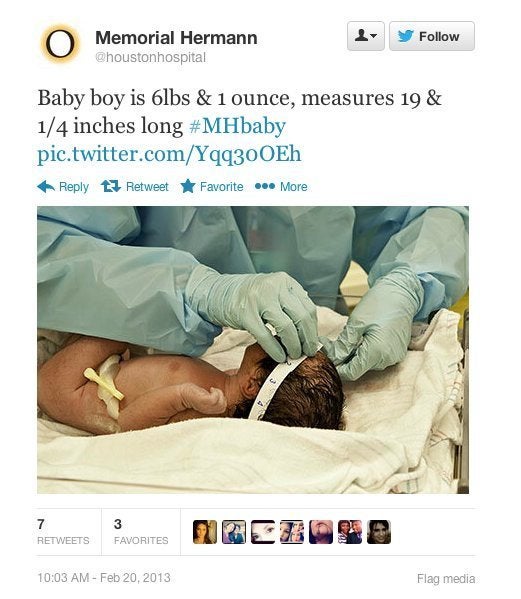 Starting early Wednesday morning, Dr. Sherri Levin at Houston's Memorial Hermann hospital live tweeted a Caesarean section being performed by her colleague, Dr. Anna Gonzalez. Using tweets, photos and videos (with fair warning of their graphic nature) Levin guided viewers through the procedure, while also answering their questions about the surgery. The hospital's social media manager Natalie Camarata told the Associated Press that over 72,000 people from 60 countries watched the procedure as it happened. "It's fascinating to pull back the curtain on the mystery of the OR," Camarata said.
The stream of data included a tender photo of the mom and dad:
Among the dozens of 140-character updates that followed (see below, for the timeline) there was a video of the moment the newborn was lifted from the womb. "Happy Birthday," Levin tweeted.
The baby boy weighed in at 6lbs and 1 ounce, measuring 19 and 1/4 inches long. As our friends at HLN pointed out, the name "Hashtag" is already taken, but if this baby follows suit, the moniker could become a trend (pun intended).
LOOK: Hospital Live Tweets C-Section
BEFORE YOU GO
PHOTO GALLERY
Weirdest Places Women Have Given Birth