Question: What's worse than a tacky celebrity clothing line?
Answer: A tacky reality TV star clothing line.

Well, let's hope for the best and prepare for the worst as Evelyn Lozada, one of the hot-headed cast members from VH1's "Basketball Wives," launches a new line of threads called "Vida Luxe" during London Fashion Week. That's right -- London, England. We're just as confused as you are, but Evelyn has an explanation.
"I wanted to do something big, and I thought that launching this overseas would have a great affect [sic] on the line. I figured 'go big or go home!'" she told Celebuzz.
(Technically the unveiling happened a day after the conclusion of London's Fashion Week -- but who's keeping track? She certainly isn't.)
And to be fair, we don't know if the collection is entirely tacky. All we have to go off is a few sketches and Evelyn's personal style, which consists of too-tight, too-embellished, too-over-the-top ensembles (Exhibit A and Exhibit B).
But if you ask Evelyn -- who feted the milestone with her reality TV besties Shaunie O'Neil, Suzie Ketcham and Tasha Marbury -- the line sounds far more refined.
"It's very feminine and flowy and will fit all body types. It's just so much fun. Lots of colors and patterns," Evelyn explained to Celebuzz.
No official photos have been released of the presentation so the jury is still out. But check out this sketch Evelyn tweeted of one of the designs.
PHOTO: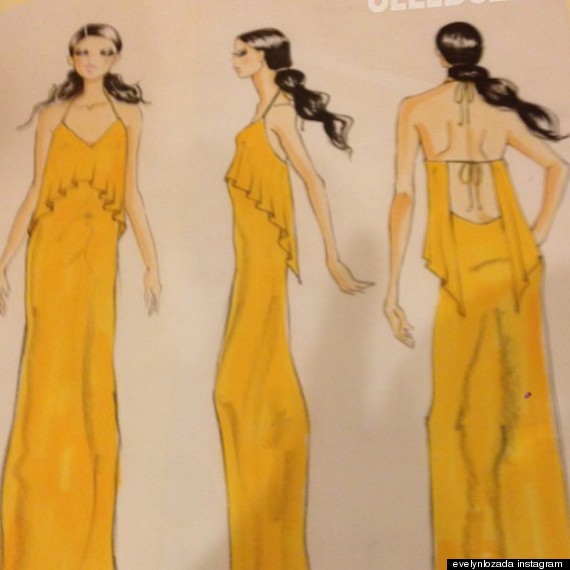 Are you a fan? Tell us what you think the comment section and check out the slideshow below for the long list of celebs who have (successfully and unsuccessfully) launched clothing lines.
BEFORE YOU GO
PHOTO GALLERY
Celebrities With Clothing Lines