GEO Group Inc., the nation's second-largest private prison conglomerate, has until now mostly kept its brand far from the law-abiding public's consciousness.
But this week, as the company donated $6 million as part of a naming rights deal for a college football stadium in Florida, brand image apparently became an elevated concern. Following reports in Deadspin, The Huffington Post and the New York Times on the stadium deal between GEO Group and Florida Atlantic University, a page about the company on Wikipedia suddenly came in for an extreme makeover, with all negative references excised.
A section on the Wikipedia page entitled "controversies," which listed state and federal investigations and lawsuits claiming mistreatment of prisoners in GEO facilities, had disappeared. In its place was a new section, headlined "Quality of Operations," which duplicated language in company filings with the Securities and Exchange Commission.
According to Wikipedia's revision history on the GEO Group entry, someone named Abraham Cohen made substantial changes to the entry Wednesday, deleting references to the controversies and replacing descriptions of the company's operations with text matching that on GEO Group's website. GEO Group employs an Abraham Cohen as a corporate relations manager, according to several articles on the GEO Group's websites, public citations in news articles and a public profile on LinkedIn. Abraham Cohen's LinkedIn profile says he's a Florida Atlantic University graduate and news stories identified him as a former student body president.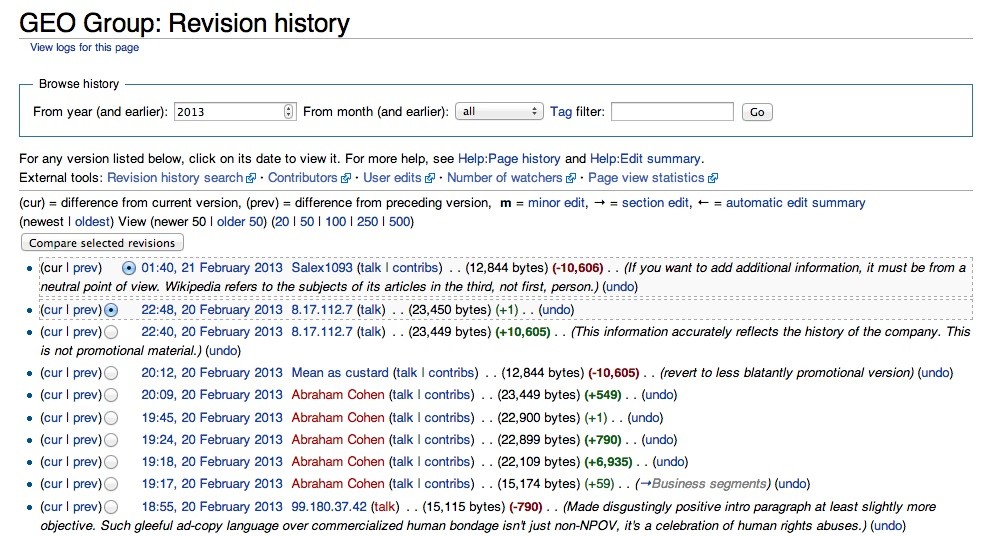 A spokesman for the GEO Group, Pablo Paez, wrote in an email that the company was "not going to comment on edits to a Wikipedia page," saying GEO has a policy of not addressing "information that is found on Internet sites or social media outlets, particularly those that can be freely updated by a variety of public users." Paez did not respond to follow-up questions about the similarity between the name for the Wikipedia user who altered the website and the corporate relations official employed by company.
By early Wednesday evening, several Wikipedia editors had made changes to the entry, some registering major concerns with revised language. One editor, Salex1093, wrote in the revision: "If you want to add additional information, it must be from a neutral point of view. Wikipedia refers to the subjects of its articles in the third, not first, person."
Before Wikipedia editors changed the Geo Group page back to its original form around 9 p.m. Wednesday, Wikipedia placed an alert on top of the GEO Group entry that read: "This article appears to be written like an advertisement. Please help improve it by rewriting promotional content from a neutral point of view and removing any inappropriate external links."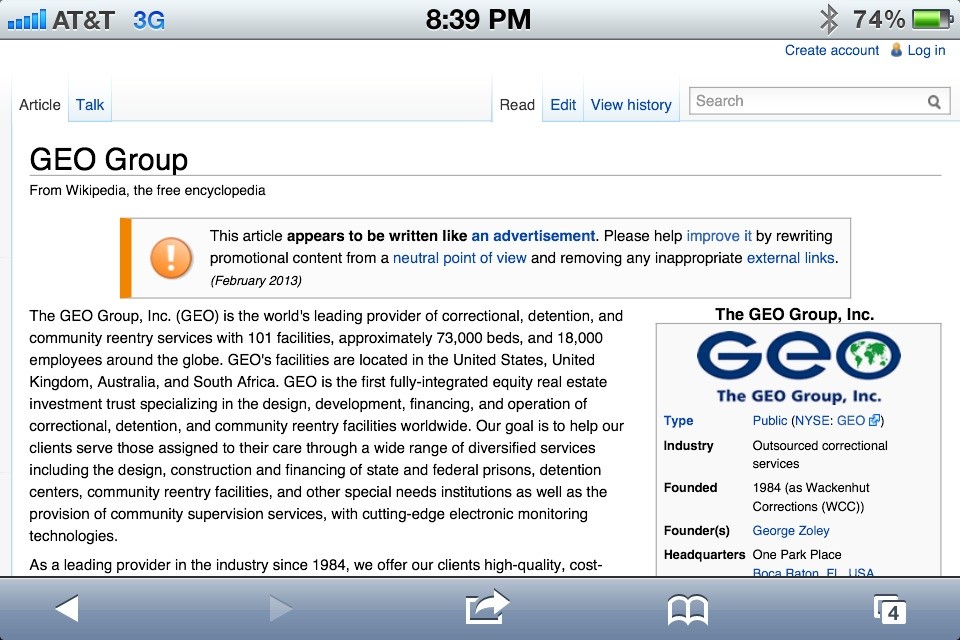 Jesse Lava, a HuffPost blogger and campaign director at the Brave New Foundation, a social justice advocacy group, pointed out the Wikipedia revisions in a blog post Wednesday, asking whether it was "an effort to minimize the damage" after increased scrutiny following the stadium deal with Florida Atlantic University.
GEO Group, a $1.6 billion corporation that manages prisons in the United States, Australia and South Africa, said Tuesday that the $6 million naming rights deal was a purely philanthropic gift to the university's athletic department. Money would go toward scholarships and academic efforts, in addition to needed finances for the stadium, the company said.
The university, located four miles from the GEO Group headquarters in Boca Raton, Fla., announced Tuesday that it would brand its new, 30,000-seat football field GEO Group Stadium.
Florida Atlantic had been searching for a corporate sponsor for its $70 million stadium since 2011, after borrowing nearly $45 million to pay for construction. In a news release Tuesday, Florida Atlantic President Mary Jane Saunders said it was "so exciting" to have GEO Group's name on the stadium and cited the company's "incredible generosity."
Several immigrant rights groups condemned the deal Wednesday, questioning why the university would partner with a company that profits from incarceration, including the detention of undocumented immigrants apprehended by the federal government.
The company has been at the center of several controversies across the U.S., including at a youth detention center in Texas, which was shut down after state inspectors said they found "filthy" and "unsafe" conditions that included feces on walls. Several riots erupted at a GEO-operated federal prison in west Texas that housed mostly undocumented immigrants in 2008 and 2009, following the death of an epileptic inmate who had been left in isolation despite pleas for help.
BEFORE YOU GO
PHOTO GALLERY
Top Ten CEOs Sent To Prison