Accused murderer Jodi Arias, on the witness stand for a ninth day, faced her prosecutor's questions for the first time Thursday, with prosecutor Juan Martinez attacking her credibility during six hours of cross-examination.
Arias, during eight days of questioning by her own lawyers, told jurors intimate details of her sex life with ex-lover Travis Alexander, including catching him masturbating to pictures of boys. But Martinez, finally beginning his cross-examination, often drew blanks.
"You had a lot of memory for a lot of events involving sexual instances with Mr. Alexander, but you seem to be having problems with your memory here today," Martinez said, trying to cast Arias as a liar.
"What factors influence you having a memory problem?" Martinez asked.
"Usually, when men like you are screaming at me or grilling me, it makes my brain scramble," Arias replied.
Arias, 32, is in the 21st day of her trial for the June 4, 2008, slaying of Alexander inside his Mesa, Ariz., apartment. She faces the death penalty if convicted. She testified on Wednesday that she shot and stabbed Alexander in self-defense after he attacked her for dropping his camera.
Martinez, a veteran prosecutor with a reputation for courtroom hardball, aggressively questioned Arias about her finger, which she said Alexander broke during a January 2008 argument. Martinez displayed a May 2008 photo of Arias, with her hand on her sister's shoulder, showing fingers that do not appear injured.
"This picture shows you and your sister, with your left hand, on May 15, 2008. Show us how bent it is again," Martinez said. When Arias lifted her hand, Martinez said, "Higher, so we can see the damage."
The fight "was five months before this picture, and you don't have a bent finger" in the picture, Martinez said.
Arias stuck with her original story.
"The injury to your finger happened on June 4, 2008, not Jan. 22 of 2008, didn't it?" Martinez asked.
"That's not correct," Arias replied.
Martinez then highlighted a Jan. 24, 2008, entry from Arias' journal, where she wrote, "I haven't written because there has been nothing noteworthy to report."
Martinez pounced on the journal entry again when he pointed out that Arias had previously testified she caught Alexander masturbating to a photo of a little boy on Jan. 22, 2008. Martinez asked if that was "noteworthy." Arias said it was, but didn't explain why she didn't note it in her journal.
"The way you make it sound is that he had a problem, right?" Martinez asked.
"He did have a problem," Arias insisted.
Martinez said, "That's what you claim."
"That's the reality," Arias retorted.
Arias testified earlier that Alexander sent her repeated text messages and phone calls after she discovered him masturbating. Martinez, however, vigorously questioned Arias about the claims, pointing out that there were discrepancies in text message timing and that none of the texts mentioned masturbation. The prosecutor said he doubted Arias' claim that Alexander had called her multiple times after being caught. He said phone records show Alexander called Arias only five times that entire day.
A final highlight of Thursday's cross-examination was display of magazines that Martinez said Arias tried to smuggle to a friend visiting her behind bars in August 2011. Secret messages were written on the magazine pages, the prosecutor said.
The messages, when combined, read in part: "You f--ked up. What you told my attorney next day directly contradicts what I've been saying for over a year. Get down here ASAP and see me before you talk to them again and before you testify so we can fix this."
Judge Sherry Stephens recessed court until 12:30 p.m. Eastern time on Monday, when the cross-examination of Arias will resume.
THURSDAY'S LIVE BLOG:
02/21/2013 6:37 PM EST
Recess
Judge Sherry Stephens has recessed court until 12:30 p.m. ET., Monday. At that time Martinez will continue his cross-examination of Arias.
02/21/2013 6:32 PM EST
Sleepover
Arias testified she spent the night at McCartney's house on June 2, 2008 -- two days before Alexander's murder.
02/21/2013 6:29 PM EST
Finding Out The Point
Alright Martinez.. Where ya goin with this???.. Get there please! #JodiArias

— Payton Everett (@PaytonNickole) February 21, 2013
02/21/2013 6:23 PM EST
Cheating
Martinez is asking Arias about the time she confronted a girl Matt McCartney supposedly cheated on her with. Arias said she "absolutely" wanted to find out what was going on. Arias said she was 21 years old at the time.
02/21/2013 6:21 PM EST
Magazines
The notes were in PENCIL! Why didn't she just erase the notes! #JodiArias is a psychopath who thinks she is smarter than everyone else!

— Da QueenBee (@TheQueenB31866) February 21, 2013
02/21/2013 6:20 PM EST
The Magazines
Martinez said Arias tried to pass thee magazines to the friend who visited her behind bars prior to a hearing about allegations that Alexander was a pedophile.
02/21/2013 6:17 PM EST
Magazine Content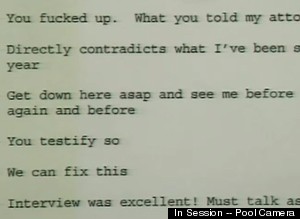 02/21/2013 6:15 PM EST
Magazine Content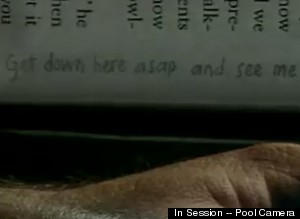 02/21/2013 6:13 PM EST
Magazine Content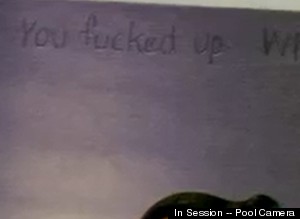 02/21/2013 6:11 PM EST
Magazine Content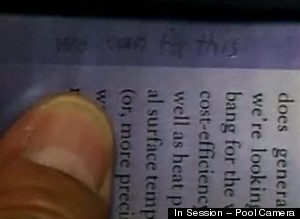 BEFORE YOU GO
PHOTO GALLERY
Jodi Arias Timeline