A pocket-sized gallery in New York's East Village is playing host to one of the art world's most bombastic figures. His name is Julian Schnabel, a painter and filmmaker who rose to art stardom in the 1980s, once proclaiming to gallery-goers everywhere: "I'm as close to Picasso as you are going to get in this fucking lifetime."
The brazen artist and his larger-than-life persona are the subject of Oko gallery's new exhibit, simply titled "Julian Schnabel 1978-1981."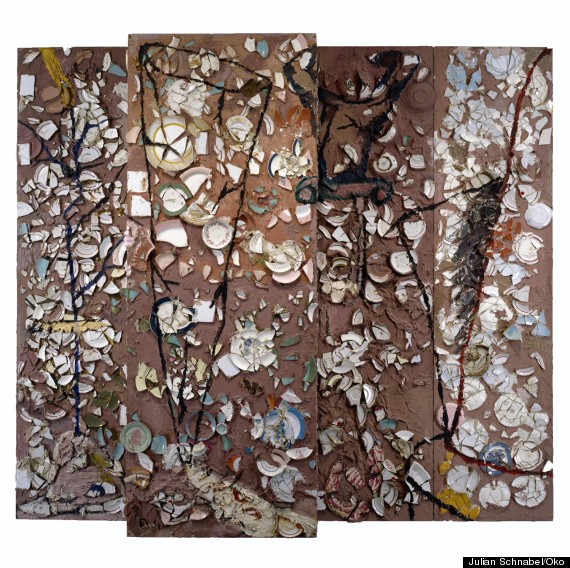 The Patients and the Doctors, 1978 Oil, plates, bondo on wood, 96 x 108 x 12 inches
Consisting of four works of art created over the span of four years, the show is a sparse tribute to the early career of a creative giant. During the late '70s and early '80s, the artist had yet to embark on his signature, billboard-sized projects, and was instead dabbling with small-scale painting techniques from textile layering to mosaics. The paintings on view at Oko are representative of this experimental period, before the art market boom turned Schnabel into a household name.
Though small in size, the exhibit has taken on an interesting format. Each painting receives a two-week spotlight, whereby visitors can get a fix of Schnabel's early mannerisms one at a time. In case you're wondering, the following works are on display: the pseudo-self-portrait, "St. Sebastian" (1979); the ceramic shard masterpiece, "The Patients and The Doctors" (1978); the drop cloth pictorial, "The Mutant King" (1981); and the fabric-layered image, "Blue Abstract Painting on Velvet" (1980).
Scroll down for a preview of Schnabel's new exhibit in the slideshow below, and let us know what you think of the hype surrounding the artist in the comments section.
"Julian Schnabel 1978-1981" will on view February 6 - March 30, 2013 at Oko in New York.
PHOTO GALLERY
Julian Schnabel 1978-1981
BEFORE YOU GO