Kara Walker has never really taken to subtle references, voicing her opinions on race, gender and sexuality through striking, often disturbing, imagery. Through drawings and paper cutouts, the 1997 MacArthur genius grantee tackles racial stereotypes head on, depicting unrestrained versions of slave owners, "mammies" and Southern belles that have prompted critics to name her one of Time magazine's 100 most influential people. In a 2007 interview with BOMB, the artist said: "It's interesting to ... elicit feelings of shame from others -- 'Come and join me in my shame!' It is a little peculiar."
However, this attention doesn't come without criticism. Hilton Als once described her work as "a freak show that is impossible to watch, let alone understand," in the New Yorker. And earlier this year, her drawings depicting slavery and sexual violence were deemed too racy for the Newark Public Library in New Jersey, resulting in local uproar about public decency and the exhibition's temporary censorship.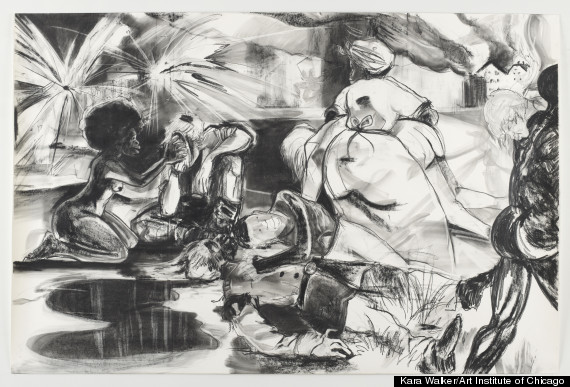 Kara Walker, "The Theater" from 'Rise Up Ye Mighty Race', 2012, graphite crayon and pastel on paper
Walker's most recent exhibit, "Rise Up Ye Mighty Race," opens today at the Art Institute of Chicago. Comprised of paintings, drawings, collages and shadow puppets that play off the silent power of the black silhouette, the array of imagery once again draws focus to the artist's dramatic and eroticized view of America's violent history.
For Walker, her five large-scale graphite drawings and 40 miniature works and cutouts reference Marcus Garvey's black nationalism and "The Turner Diaries," as well as her own notion of racial struggle. In the press release for the exhibit, she describes the artworks as "a kind of paranoid panorama wall work -- with supplemental drawings large and small, to chronicle what can be called a diary of my ever-present, never-ending war with race."
Scroll through a preview of Walker's images, on view now at the Art Institute of Chicago until August 11, 2013.
PHOTO GALLERY
Kara Walker's "Rise Up Ye Mighty Race"
BEFORE YOU GO