M.I.A. is back in the news for doing something controversial!
The always excitable "Paper Planes" singer came out swinging against the Grammy Awards, which she accused of stealing intellectual property. More specifically: M.I.A. thinks the Bob Marley tribute that was performed during the Feb. 10 awards show (and featured Sting, Bruno Mars, Rihanna and Damian and Ziggy Marley) was an overpriced knockoff of one of her January concerts.
She posted a photo comparing her set to the Grammys' production on her official Tumblr and tweeted a (since deleted) message to her fans: "IM KEEPING A STEAL LOG THIS YEAR HERE THE ONE FOR JAN / FEB >MIA $500 : GRAMMYS $5000000."
The first installment of the "steal log" is titled "MIA VS THE SYSTEM" and is comprised of a split of the aforementioned performances. Both M.I.A. and the Grammys used light up box frames; the "Bad Girls" singer used one square while the Grammys used multiple rectangles. They're similar, but hardly identical. "IF U WANNA SEE THE REAL THING OR GET IT FIRST COME TO A M.I.A SHOW!" the singer wrote. "My ideas came from my life. My set was based on Tamil Hindu temple. Not Bob Marley."
M.I.A. herself has been nominated for three Grammys but never won. She's currently creating music with Hit-Boy, the much buzzed about producer behind Kanye West and Jay-Z's "N---as in Paris" and last week's rap remix of Britney Spears and will.i.am's "Scream and Shout." Hit-Boy also produced "Beez in the Trap" for Nicki Minaj and has worked for the likes of Justin Bieber, Kendrick Lamar, Chris Brown, 50 Cent and more.
Other than "Paper Planes," M.I.A.'s biggest cultural impact over the past few years came at the 2012 Super Bowl, where she performed during a halftime show headlined by Madonna. At the end of her verse on Madonna's "Give Me All Your Luvin,'" M.I.A. looked straight into the camera and displayed her middle finger. Madonna would later describe it as a "teenager" thing to do.
Take a look below and let us know if you think M.I.A.'s cries of theft are warranted.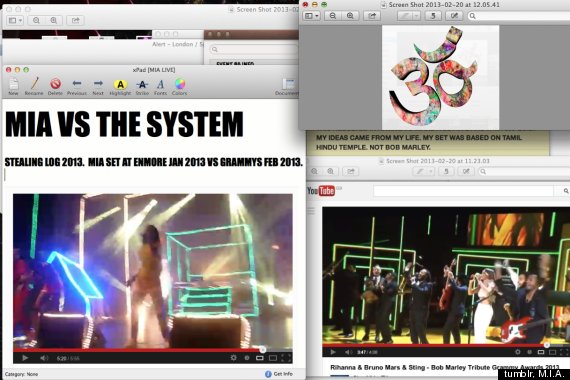 PHOTO GALLERY
Grammy Awards 2013
BEFORE YOU GO