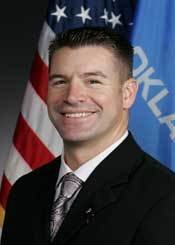 "Additionally, I have joined Reps. Sean Roberts, Dustin Roberts, John Enns, Dan Kirby and R.C. Pruitt in signing and we sent a letter requesting numerous gun manufacturers come to Oklahoma," Bennett told koco.com. "We have sent them a copy of HB2021 as well as touted our pro-Second Amendment laws we have in this state, as well as the citizens' support, to ask these companies in other states to move out of their anti-gun states and move here to Oklahoma. Most recently we sent a letter to MagPul Industries in Boulder, Colo. We are courting these companies to relocate to Oklahoma and create hundreds if not thousands of jobs."
The other lawmakers identified as signing the letter consist of four Republicans and one Democrat.
Bennett's argument might resonate with a gun rights advocate who testified before the New Jersey Assembly's Law and Public Safety Committee last week during a hearing on 23 proposed gun control laws. Ryan McBeth, a Democratic member of the New Jersey Second Amendment Society, asserted that he is having trouble filling computer programming jobs because gun owners from other states do not want to move to New Jersey due to existing gun laws in the state.
The Oklahoma bill is also similar to legislation pending in Kansas, which would prohibit the enforcement of federal gun laws on guns manufactured in that state. The Kansas bill, which is co-sponsored by four Democrats, includes a provision that would prohibit doctors other than psychiatrists from asking about gun ownership. The American Academy of Pediatrics advises its members to inquire about guns in the home as part of routine child safety questions, but not to report what they learn to federal officials.
*************************
Is your lawmaker holding a town hall meeting with constituents this week? The Huffington Post's Open Reporting project needs your help in getting senators and representatives on the record about campaign finance reform and the influence of money in politics. Learn more about the project here. Email any tips, videos and audio files to openreporting@huffingtonpost.com, or let us know if you have any questions.
BEFORE YOU GO
PHOTO GALLERY
U.S. State Capitol Buildings