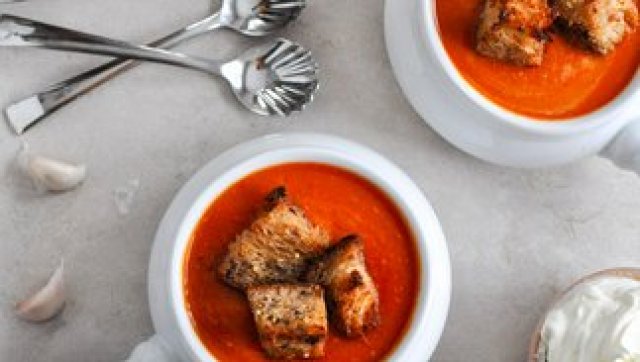 Cooking For Kitchenphobes is a series aimed to put "cooking haters" more at ease in the kitchen. We'll walk you through one basic recipe a week until you love cooking. Or else.
Last week, we showed you how easy (and important!) it is to make your own chicken stock from scratch. We're assuming you survived the experience, so we're rewarding you with one of our favorite recipes: cream of tomato soup. It only requires five ingredients, one of them being last week's chicken stock. We think your minds will be blown by the depth of flavor that your homemade chicken stock adds.
Creamy soups traditionally require either a blender or a food processor to whirl the ingredients into smooth submission, but don't fret if you're equipment-challenged. A mesh strainer (yes, one of these) can do the job just as well.
Are you ready to make tomato soup? Let's do it. [Note: Italics below indicate when we're holding your hand through the process.]
Cream Of Tomato Soup
Serves 6
- 2 tablespoons unsalted butter
- 1 onion, diced [Diced just means cut into 1/4" cubes]
- 2 14-ounce cans whole peeled tomatoes ["Diced" or "crushed" canned tomatoes also work great]
- 2 cups chicken stock [Use water or vegetable stock if you're cooking for your vegetarian friends]
- 1/2 cup heavy cream [You can eliminate this ingredient if you're afraid of the calories, but remember that fat (cream) + acidity (tomatoes) is one of the greatest flavor combinations on earth, so you'll be missing out.]
- Salt and pepper
Directions
1. Prepare your ingredients: Slice off 2 tablespoons of butter, and set it aside. Dice your onion, and set it aside. Open the cans of tomatoes, and set them aside. Measure out 2 cups of stock, and set it aside. Measure out 1/2 cup of cream, and set it aside. [That's called your mise en place, which in French translates to "everything in its place" and probably looks familiar because every cooking show in the history of television has done it. Why? Because it's great and helps keep you organized in the kitchen.]
2. Put a medium stockpot [one of these] on the stove, and turn the heat to medium. Throw the butter into the pot and watch it melt for a few seconds.
3. Add the diced onions to the pot and stir them occasionally with a wooden spoon. Cook them until they're translucent, and maybe just starting to turn golden brown. This should take about 3-5 minutes. [The brown color is caramelization, which will add a delicious sweetness to your soup, if you like that sort of thing.]
4. Add the canned tomatoes [with their juices] and the stock to the pot. Wait until the mixture comes to a boil [it will probably take 5-10 minutes, and when it's bubbling violently, it's boiling] and then turn down the heat to low. Let the mixture simmer [gently bubbling], uncovered, for 20-30 minutes. [If you like your soup thick, let it simmer longer. More liquid will evaporate over time, giving you a thicker consistency.]
5. Turn the heat off, and let the soup cool for about 20-30 minutes. [Go do something fun!]
a. If you're blending the soup in a blender or a food processor, pour half of the tomato mixture into the appliance and blend until smooth. Pour the blended soup into a big mixing bowl, and then blend the other half until smooth. [Blending in batches prevents your appliance from exploding all over the kitchen.]
b. If you're using a mesh strainer, simply set the strainer over a large mixing bowl. In small batches, pour the tomato mixture into the strainer and push it through with a wooden spoon. It'll take a while, but just be patient. If you're left with some lumps, your soup will still taste great.
6. Return the soup to your stockpot, and turn the heat on low. Season your soup with salt and pepper, to taste. [This is important. Salt is what will make the soup taste "right," so add it slowly and keep tasting it until you like it. There's no right or wrong amount. It's all according to what YOU like.]
7. Stir in the cream, and turn off the heat. [You don't want to cook the cream, because it will curdle. That's gross.] Serve! You're done! Isn't it amazing?
Stay tuned for next week's edition of Cooking For Kitchenphobes, when we'll make you an even better cook.