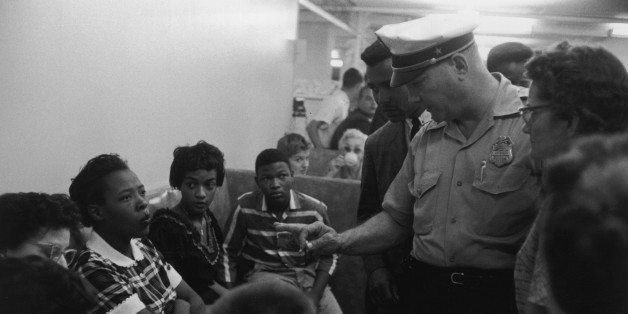 A picture is certainly worth a thousand words. What better way to celebrate Black History Month than by taking a moment to acknowledge the snapshots of time that represent the struggle and triumph of African-Americans through the years?
As part of our Black History Month coverage, we will be featuring one photo a day that honors years of groundbreaking achievements within the black community. These photos bring tears to our eyes, instill pride in our hearts and motivate us to carry on the legacy of strength and perseverance.
Today's photo was taken in 1958, showing a white police officer reprimanding black students during a sit-in at Brown's Basement Luncheonette in Oklahoma.
Sit-ins were an integral part of the nonviolent strategy of civil disobedience, ultimately leading to the passage of the 1964 Civil Rights Act. It was a method, largely utilized by students, where participants would sit at a lunch counter until they were served. If they were taunted, they did not respond; if they were hit, they did not retaliate, and they oftentimes dressed in their Sunday best. By August 1961, more than 3,000 students across the country were arrested.
Several sit-ins gained national attention and notoriety, such as the demonstration at a Woolworth's store in Greensboro, North Carolina on February 1, 1960, when four students from North Carolina A&T refused to leave the premises until they were served. The men, who eventually became known as the Greensboro Four, were joined by hundreds of demonstrators and attracted attention from television stations and newspapers, helping to spread the movement across the country.
Three years later, a similar sit-in at a Woolworth's in Jackson, Mississippi, was one of the most violent demonstrations on May 28. Anne Moody wrote about the experience in her book "Coming of Age in Mississippi."
This was the most violently attacked sit-in during the 1960s and is the most publicized. A huge mob gathered, with open police support while the three of us sat there for three hours. I was attacked with fists, brass knuckles and the broken portions of glass sugar containers, and was burned with cigarettes. I'm covered with blood and we were all covered by salt, sugar, mustard, and various other things.
Take a look at the photo and share your thoughts in the comments section below.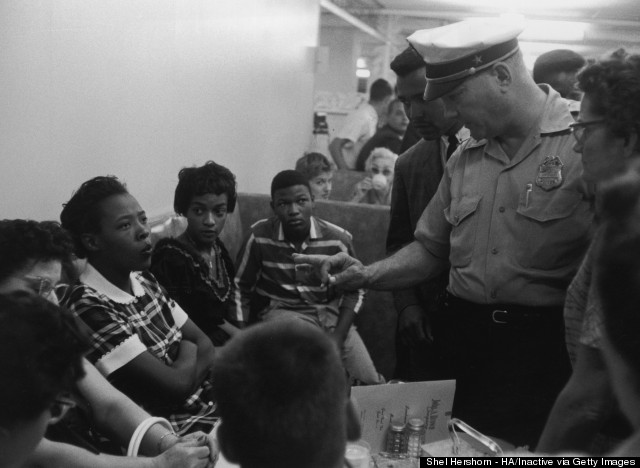 PHOTO GALLERY
Black History Month Photos