Cinephiles everywhere are counting down the minutes until the 2013 Academy Awards, carefully reviewing their picks for Best Picture and beyond. But for those of you not exactly interested in the divvying out of the golden statuettes, but still excited for the big festivities, here's some juicy news for you: the Oscars Greenroom is ready.
The glamorous space, organized each year by Architectural Digest, is the room where many a star will mingle before and after they grace the Oscars stage. Each year, AD picks a designer to create this Hollywood-worthy arrangement, and this year's choice -- Madeline Stuart -- has just unveiled her glitzy creation. See the video below
A time-lapse video of the Greenroom's construction.
Stuart was inspired by 1930s-era Tinseltown and the designs of original Oscar statuette creator, Cedric Gibbons. "My goal was to create a space where contemporary stars wouldn't be surprised to bump into Cary Grant or Katharine Hepburn," Stuart explained to AD. The result, as you can see in the video above and the rendering below, is an Art Deco-styled Greenroom fit for the gown and tuxedo-clad guests it will entertain this weekend.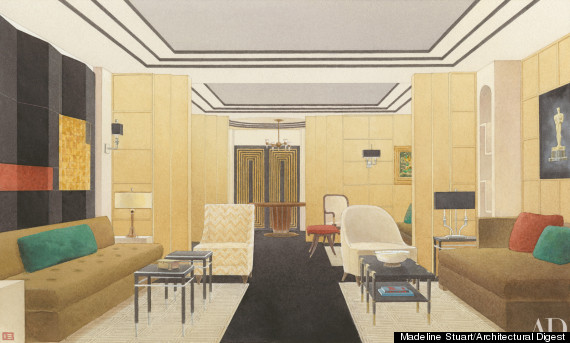 Rendering by Ian Espinoza, courtesy of Madeline Stuart & Associates
For more on Madeline Stuart, scroll through the slideshow below to get a glimpse of her past interior designs. Let us know what you think of her Greenroom masterpiece in the comments section.
PHOTO GALLERY
Madeline Stuart's Interior Designs
BEFORE YOU GO