When it comes to our home's design, sometimes we just need a little bit of advice... and a lot of inspiration. And at HuffPost Home, we hope we provide both on a daily basis. But what if we were to offer readers specific recommendations based on your own design dilemmas? That's exactly what we plan to do each week with HuffPost Home "House Calls." We'll put our heads together and confer with our favorite design bloggers to make suggestions for their trouble spots, and help you create the room of your dreams.
But for now we're starting in-house with the bedroom of Michelle Manetti, an Associate Editor here at The Huffington Post.
Michelle, who lives in Brooklyn, has found herself in a design rut. She wants to decorate her bedroom in a way that personifies who she is, while staying within her budget... but doesn't know where to start. That's where we come in. She gave us this picture of her new room: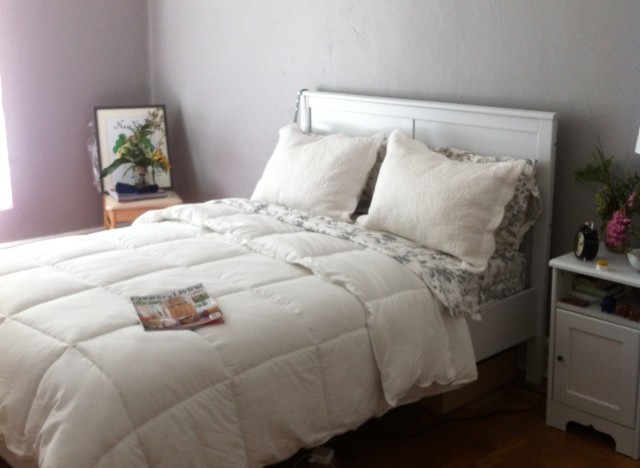 And, this is what Michelle told us:
"For the first time in my life, I have my own room. This is no small feat for someone living in New York City, and I'm even luckier because this space is huge. But it needs to be designed just right. I spent months mulling over what color to paint the room, and now it's time to decorate. There is absolutely no color in the space and it lacks both personality and storage. I would love to have a mixture between bohemian and country. Is this possible? Also, I love mint green, coral, and purple -- really vibrant shades!"
We enlisted the help of one of our favorite home bloggers, Cassie from Hi Sugar Plum!, and got expert advice from Shana Ecker, the Editor of HuffPost Home. Using their brillant design tips, we have created an inspiration board as a starting point for Michelle.
Do you have a room in your home that could use some decorating inspiration? We will be selecting one room each week, enlisting the help of our favorite home bloggers, and giving design advice to help solve your biggest decor qualms.
If you would like our help, send pictures of your room and an e-mail describing your obstacles homeeds@huffingtonpost.com with "House Calls" in the subject line or upload a photo to Instagram with the hashtag #HPHomeHouseCalls, and your e-mail address and @huffposthome in the caption. Happy decorating!
What do you think? Do you have any advice for Michelle? How would you decorate your first room in the city? Share in the comments below!