Connie Britton is an actress women love to love. She's eloquent, she has an infectious energy and she has consistently portrayed strong and complex women on-screen. On March 6, Britton, a.k.a. Tami Taylor a.k.a. Rayna Jaymes, is turning 46.
We've previously honored Hillary Clinton on her 65th birthday and Michelle Obama on her 49th. And since Britton is ANOTHER one of our favorite women, we decided that she also deserved a celebration. Here are 46 reasons to love her as she turns 46:
She got her TV start from Ellen DeGeneres. Britton had a short arc on "Ellen" from 1995-96. "When I got the 'Ellen' show, my dreams came true," she told DeGeneres in 2011.
She has powerful female friends. In February we spotted her having dinner in New York with Julianna Margulies, star of "The Good Wife." We can't begin to describe how badly we wanted to pull up a chair and join them.
Her hair. This is superficial, but Britton has one of the most gorgeous manes we've ever seen. There's even an entire Tumblr dedicated to it. She's well educated. Instead of skipping college -- or high school -- to start her career, Britton chose to develop other interests first. She attended Dartmouth College and majored in Asian Studies, graduating in 1989. "In college, I always said I believe that having as extensive of an experience of other cultures and other people as possible will make me a better actor anyway," she told The Dartmouth in 2012. "I still believe that to this day."
She IS Tami Taylor. Britton captured viewers' hearts as the wonderfully strong-willed, principaled wife of Kyle Chandler's Coach Taylor in "Friday Night Lights." Her character went from the coach's wife to school principal in a matter of seasons and was an integral part in many of the series' most compelling story lines. "I'm still just in denial and having an identity crisis," Britton said on Chelsea Handler's show "Chelsea Lately," in 2010. "'Cause who am I, if I'm not Tami Taylor?"
She once called herself and Chelsea Handler "a couple of hoo-hahs." This clip is guaranteed to make you smile.
She's played opposite Michael J. Fox. (Jealous.) And Dylan McDermott. (Jealous.)
And Kyle Chandler. (Really jealous.)
No one says y'all quite like she does. See this video.
She takes career risks. She took on her current role of country megastar Rayna Jaymes in "Nashville" even though she hadn't sung or danced professionally since she was doing regional theater in her 20s. "The thing about taking risks is, if it's really a risk, you really can fail," Britton told the New York Times Magazine in February. "It's only a pretend risk if you really can't fail."
She's open about her experience as a single mother. Britton adopted her son, Yoby, from Ethiopia in 2011. "I didn't want to wait anymore and absolutely knew that this was something I want for my life," she told Amanda de Cadenet in 2012. "There are so many women out there who are single moms really not by choice, and doing it and making it work every day ... I just hope that it will become more accepted and that those women are going to be more and more appreciated and respected."
She and Kyle Chandler used to play practical jokes on each other on the "Friday Night Lights" set. And you thought they couldn't get more adorable.
She values skills over looks. "I didn't want to be an actress who was seen as 'she's a great actress because she's so beautiful.' ... I wanted to be seen as a great actress because I had a great craft and I was able to play roles that could impact people," she told Amanda de Cadenet in 2012.
She knows that women don't lose their sex appeal after 40. "I've had a different experience, as a single woman," she said in her New York Times Magazine profile, referencing the idea that women get less desirable as they age. "Younger men and all that." Respect, Connie. Respect.
She also reminds the world that being 40-something doesn't mean being "old." "My life started being awesome five years ago," she told the New York Times Magazine in February.
She refused to stare at her face in the mirror and mime a face-lift in the pilot of "Nashville."
She speaks Chinese.
She resisted the idea that "Nashville" was about women "cat-fighting." "I want the show to be authentic, and I don't really think that there's a lot of authenticity if it just becomes about [catfights]," she told PopSugarTV in 2012. "The truth of the matter is I think in music ... people are supportive of each other." She sings to her (adorable) son. "Poor thing practically never hears me just say a straight word. I sing everything like we're in a musical," she said on "The View" in 2012.
She's been working on a documentary about Ethiopian orphans for the last 10 years. She hasn't been able to finish it, but she told the women of "The View" that working on the documentary is what made her want to adopt from that country.
She considers New York City "the best city." Since we live here, we can't help but agree with her.
She has a sense of humor about some of her earlier, less prestigious roles. "As the girl, I was the bimbo. So I'd walk in and act bimbo-y," she told David Letterman in 2011, reflecting on her early acting experience working at a murder mystery dinner. "I was a woman, [so] of course I was [the victim of the crime]."
She narrated this hilarious "Funny or Die" video, "Wing It Parenthood."
She looks up to other talented women. Her favorite movie is "Foul Play," starring Goldie Hawn and Chevy Chase. "I was so heavily influenced by funny ladies such as Goldie Hawn," Britton told NPR in February.
She's said that she "love[s] to play a woman who makes mistakes."
She knows that any woman can be sexy. "It's important in whatever character I play that I show as many different levels of what it is to be a woman as I can. That includes being sexy! I want to get rid of the whole idea that women who are wives and mothers and working in the world no longer have any interest in their sexuality," she told Redbook in 2012.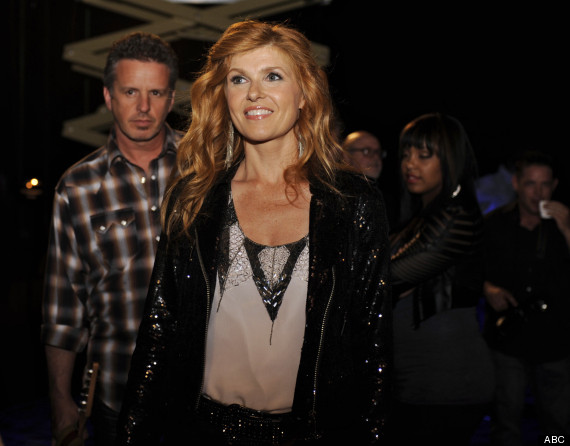 She brings her son to work with her sometimes.
She's honest about divorce. "Divorce is hard," she admitted to Redbook in 2009. "I was about 29 when my husband [John Britton] and I split up. I think we probably fared better than most, because we were young and didn't have kids -- but divorce is hard."
She's passionate about playing genuinely interesting female characters. "I want to try to get a strong female voice out there, no matter what the context is," she said to IndieWire in 2012.
She's honest about the difficulty of meeting certain beauty standards. And she doesn't mince words. See No. six on this Esquire list.
She believes that there's a unique space for women on television. "It's so exciting because, growing up, I watched a lot of TV, and there really weren't characters like that for women," she told IndieWire in 2012. "I do think there is an incredible opportunity for women in television, and, because of what's happening in TV, there's room to push boundaries and limits, and to keep doing it. I think we can still go further, as women, and it's a great opportunity to do that on TV." She doesn't care if she has followers. "I'm not on Twitter, I'm not a person who counts fans," she told IndieWire.
She knows the value of a great costume. "If you get to wear sequins and rhinestones and cowboy boots all in the same character, that's pretty much the way to be," she said in an interview with Esquire in 2012.
She strives to play "accessible characters."
She loves "Thelma & Louise" as much as we do. "It's such a great women's movie," she told O Magazine in 2012. "I mean, a great everyone movie."
She's politically involved. Britton penned a passionate op-ed criticizing Mitt Romney for "co-opting" the "clear eyes, full hearts, can't lose" motto from "Friday Night Lights" during the presidential election. "So as women, let's take 'Clear Eyes, Full Hearts' back and use it as it was always intended -- as a motivator for progress, power, and greatness," she wrote in USA Today.
She embraces her Southern roots. Britton was born in Boston but spent most of her formative years in small-town Virginia. And she's portrayed Southern characters in "Friday Night Lights" (the movie and the show) as well as "Nashville." "I grew up in the South. I have always had a real love for Southern women. There is something very unique about them to me," she told Charlie Rose in 2008. She understands the importance of work-life balance. "I think -- and this is ironic when I'm working harder and have more responsibility than ever before -- that I now know the importance of grace and sitting back," she told MORE magazine last month.
She has a sense of humor about her failures. "Maybe I was too tall," she told the New York Times Magazine, reflecting on her loss of the romantic lead in "Jerry Maguire" to Renee Zellweger.
She's been nominated for three Best Actress Emmys and one Best Actress Golden Globe. That makes for a pretty impressive resume!
She had a four-episode arc on "The West Wing" as a campaign consultant in 2001. And who doesn't love "The West Wing"?
She used to write plays in elementary school. If only we could read them now.
She's a self-declared "terrible cook." "I can [roll some meatballs] and scramble some eggs," she told Rachael Ray in 2007. She used to be an aerobics instructor in New York. And she wore a headband and leg warmers to do it.
She pushes back on stereotypes about women in positions of power. In 2008 she spoke with the Los Angeles Times about Tami Taylor's jump from guidance counselor to principal on "Friday Night Lights." "Once you put women in a position of power, you're dealing with hysteria and anger and bitchiness, and all these kind of tags that people attach to women who are dealing with roles of power," she said. "That was something I worked really hard with the writers to resist."
BEFORE YOU GO
PHOTO GALLERY
Connie Brittons Style Evolution