Jesse Tyler Ferguson is quite busy these days. When he isn't racking up Emmy nominations for his role on "Modern Family" or creating the perfect red-carpet photobomb outside the Vanity Fair Oscar party, he's busying himself with a bow-tie line that he and fiance Justin Mikita created in support of marriage equality. It probably goes without saying, but even Ferguson can admit he's "mentally overbooked."
Yet that hasn't stopped the 37-year-old actor one bit. On Tuesday, Feb. 26, he launched Tie the Knot's spring collection, an assortment of bow ties that pay tribute to New York City's landmarks, with names like the Flatiron, the High Line and the Chelsea.
Luckily Ferguson's schedule wasn't too grueling for him to speak with The Huffington Post about his upcoming return to New York theater, Tie the Knot's ongoing fight for marriage equality and what it's like during the commercial breaks at award shows. (Also stay tuned next week for a special #nofilter Q&A with Ferguson, where he reveals how he lied to get his first acting gig and what he thinks of Honey Boo Boo.)
Hi, Jesse! Are you on-set in L.A. today? Is it a busy day for you?
I'm on-set in L.A., but I'm about to get in the car to leave the set. I just finished for the day, and I now I'm going to go to the gym. It was a very early day, but we get out pretty early when we start early. I usually leave before 1 p.m. Sometimes I'm coming home from work when Justin is leaving to go to work.
How did Tie the Knot start? Did you approach The Tie Bar, or did they come to you?
It actually was an idea that we came up with. ... Once [Justin and I] decided to do a bow-tie line for marriage equality, we kind of shopped the idea around. We had some bids from bigger stores we were excited to work with, but when you're dealing with something as politically charged as marriage equality, it's terrifying for a corporation. So we had to go back to the drawing board, and we thought, "Why don't we approach The Tie Bar?" Everyone orders them online anyway, so why does it matter whether we're in-store or online?
What can we expect from the spring collection? I know Isaac Mizrahi designed one of the ties -- how did he get involved? Are there any other big names attached?
With this round, [Isaac Mizrahi] is our only guest designer. He does one tie. One thing we wanted to do was feature one designer to do one tie for each collection. For the next collection, we have someone on board who's not from the fashion world –- it's someone you wouldn't really expect. Of course I can't tell you who right now, but we're really excited about that. Isaac obviously comes from that world. And when we were first talking about doing a bow-tie line, he's someone I hooked up with to ask how one would go about doing this.
Darren Criss was seen wearing one of your ties recently. Are any more celebrities getting involved or expressing their support? What's been the response from the Hollywood community?
Yeah, we've seen a lot of people respond. Lena Dunham is one. I saw her at the Golden Globe Awards, and I was wearing a bow tie, and she came up to me and asked if it was one of my bow ties, and it wasn't, and she said she's obsessed with the bow ties. I just met her for the first time recently, and she's lovely and supportive and she really has no idea who I am, other than that I work on TV.
Aside from general awareness, what's the ultimate goal? Is it to repeal the Defense of Marriage Act? To make gay marriage legal in all 50 states?
Well, my personal mission statement is that we want marriage equality in all 50 states. We want it not to be a state-by-state issue. We don't want it to be something the majority is voting on. I don't think the civil rights of any minority should be in the hands of any majority. It would be great if we could find another cause for our bow ties, too, though. ... For Tie the Knot, we're giving funds to the trenches fighting the battle, whether it be [Human Rights Campaign] or another firm. We find the places that need the money most. Had we coordinated it earlier, we would have given it to the states voting on marriage equality. But we like the idea of constantly evolving.
You've been making the award-show rounds a lot lately. We've seen you at the Globes, the SAGs, and you've been nominated for a few Emmys. What's something that goes on behind the scenes, maybe during the commercial breaks, at award shows that viewers don't get to see?
Well, certainly at the Golden Globes, during every commercial break everyone gets up and schmoozes with each other. There's lots of booze and everyone is drinking, so getting everyone back in their seats is difficult. It's certainly a party –- it's the only award show where you get both TV and film at the same time. Everyone's excited to meet everyone else. It's a very communal room, but also very divided –- there's a physical divide between the film people and the TV people. The TV people are in the back on this elevated floor. It's almost like they're able to come up to you but you can't go down to them.
Have you gotten to meet some remarkable people along the way?
At my first Golden Globes, I met people I was very much enamored by: Julianne Moore, Meryl Streep, Brad Pitt and Angelina Jolie. It was surreal to see them in person. Sandra Bullock stopped me to tell me she's a fan of the show. Jennifer Aniston, who, again, she's the one who came up to me and said she wanted to meet me, and I'm like, yes, I know who you are, you need no introduction. It's always nice to have those sorts of run-ins.
Any Oscar parties this year?
I think Justin and I are going to step into the Vanity Fair Oscar party. [The couple were indeed present at the Vanity Fair shindig. In addition to the aforementioned photobomb, Ferguson tweeted this photo the next day.]
Wow, that's a very coveted invitation. How'd that come about?
I was invited last year for the first time, and I was very excited. Sandra Bullock was there, and Gwyneth Paltrow was very lovely. Jane Fonda actually got up out of her chair to come say hi to me, which was surreal. I hope I never lose that excitement to meet people. It can kind of wash over you at some point -- people get lost in that world, and I hope that never happens to me.
Let's shift gears and talk about "Modern Family" briefly. Tell me: Who's the biggest diva on the set?
Probably [Aubrey Anderson-Emmons, the 5-year-old actress who portrays Ferguson and Eric Stonestreet's adopted daughter Lily].
Interesting. Is it easy to work with a 5-year-old?
I love it so much because, since she's a 5-year-old, she says what I'm thinking. Like, if a scene is taking too long to shoot, she will literally say, "I'm tired of doing this scene." She'll say exactly what I'm thinking. I love watching her learn about how TV works. She makes me laugh. Because I'm still figuring it all out and I still have a ton of questions. But she's never afraid of asking questions, like "Why do we have to do so many things so many times?" It's really fun to watch.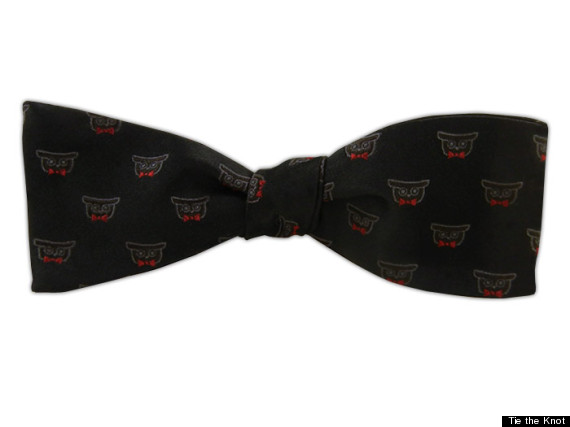 The Signature: Black Wedding bow tie, an item from Tie the Knot's spring collection
BEFORE YOU GO
PHOTO GALLERY
Launch of Tie the Knot's First Collection