Fly away on my zephyr ... to Belle Isle, where the Red Hot Chili Peppers will be headlining a music festival this summer.
Metallica is bringing the Orion Music & More festival to Detroit's island park on June 8 and 9. The lineup was announced Monday. Along with the two headliners: Rise Against, The Deftones, Bassnectar, Dropkick Murphys, Gogol Bordello and a host of other bands will be performing, including some familiar Detroit groups, like DEATH and the Dirtbombs. See the lineup below.
Among the festival attendees? RHCP drummer Chad Smith's mom. Smith grew up in the Detroit suburbs.
According to MLive, the 2013 festival is projected to bring $100,000 in revenue to the city.
Tickets go on sale to the public at 10 a.m. Friday, with presales beginning Tuesday for Met Club members and Wednesday for E-list members.
Orion Music and More shared the lineup on their Facebook page: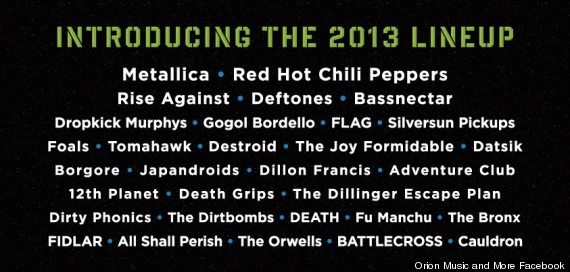 The Red Hot Chili Peppers are a busy group -- they released a new single earlier this month and will be headlining the Coachella Music Festival in April.
PHOTO GALLERY
Coachella 2013 Lineup
BEFORE YOU GO