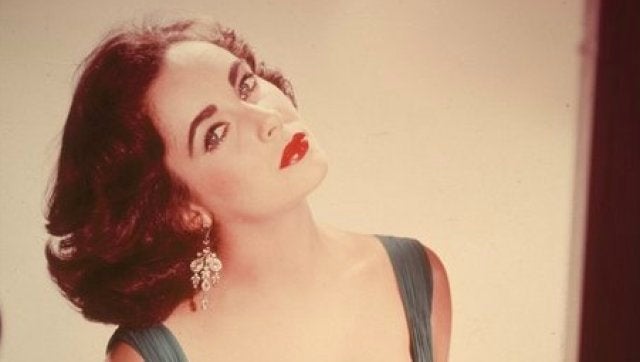 With her deep violet eyes, an ability to bring men to their knees and a collection of jewelry to rival a royal, it seems wrong to sum up Elizabeth Taylor as merely an "actress." I mean, an actress gets up on a stage or set and channels another person. Or, to witness the Oscars, an actress is someone who flips the press the bird before she talks about her award-winning performance.
But Elizabeth Taylor was a force to be reckoned with from day 1. She was born with the sort of innate confidence that would allow her, at age 12, to stun the nation with her performance in "National Velvet." Her look was all-American. Think: high-collared dresses, 40s prints and knee-length skirts.
This changed only a handful of years later. In an effort to rebrand herself for more adult roles, Taylor lowered her necklines and raised eyebrows. It was a confident, decidedly mature kind of sex appeal. She never seemed a victim of the male gaze, instead, she possessed and controlled her sex appeal. Her reinvention reached its pinnacle in her role as Maggie in 1958's "Cat On A Hot Tin Roof." (Why the image of Taylor, clad in a silk nightgown and resting on her bed, isn't as iconic as Marilyn Monroe's "The Seven Year Itch" white dress scene is almost criminal.)
Of course, many of us think of Taylor in 1963's "Cleopatra." Yes, it was movie where she first fell in love with Richard Burton and yes, you can feel the tension between the two. But it was also the movie that seemingly set in place Taylor's makeup style for (at least) the next decade. The dramatic eyeliner and pastel shadow would be her go-to look as she sampled the styles of the 60s, eventually settling on caftans as her trademark.
The 70s and 80s saw Taylor married (again and again), but her true love affair became jewelry. She said that the acquisition of bling wasn't so much a hobby but fate. "My mother says I didn't open my eyes for eight days after I was born, but when I did, the first thing I saw was an engagement ring," she says. "I was hooked."
It's hard to find a photo where Taylor isn't wearing a stunning rock of some sort. Her image became so intertwined with lavish jewelry that she named her perfume "White Diamonds." She was the first celeb to venture out into the world of fragrance -- and one of the first to advertise a fragrance through commercials. When I was an impressionable child, I thought the commercial was one of the most glamorous things I had ever seen. Taylor, in all her big-haired glory, interrupts a poker game by placing her earrings on the table and says "These have always brought me luck." It's a touch absurd, but in the best way possible. (I've adopted the phrase as my go-to inscription for birthday cards.)
The commercial occasionally still airs, even though Taylor died in 2011. I can't help but wonder what the younger generation thinks when they stumble upon the ad -- do they know who Elizabeth Taylor was? Will they ever be curious enough to see her in all her wide-eyed beauty in "The Last Time I Saw Paris"? Or will they -- perish the thought --o nly have a vague recollection of her as the counterpart to a Kim Kardashian interview, or perhaps a "character" played by Lindsay Lohan in a regrettable television movie?
I think the only course of action we have is to spread the gospel of the amazing icon, Elizabeth Taylor. Consider the slideshow, below, my contribution. (And be sure to check out HuffPost Home for a peek inside Taylor's home.)
PHOTO GALLERY
Elizabeth Taylor's Style Evolution
Do you have a style story idea or tips? Email us at stylesubmissions@huffingtonpost.com. (PR pitches sent to this address will be ignored.)