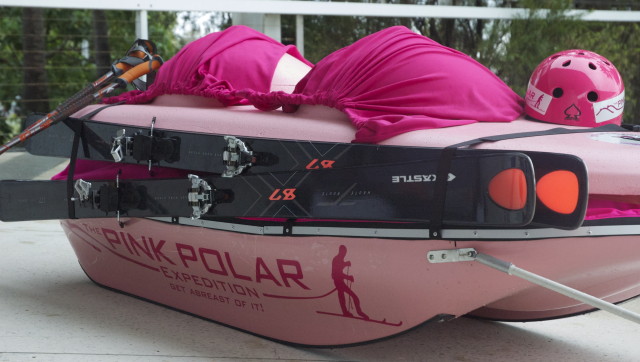 One man is training to trek across Antarctica in record time -- with only skis, kite power, and a 400 lb boob sled.
That second "o" in "Boob" is no typo. Just check out the sled.
Geoff Wilson, "extreme traveler," plans to embark on a "Pink Polar Expedition" in November, where he'll drag a fiberglass boob-shaped sled, filled with survival supplies, to raise money and awareness for breast cancer, Gold Coast News reports.
And these aren't just any boobs -- according to Pink Polar's Facebook page, the knockers are moulded in the shape of Wilson's wife's bust.

(Story Continues Below)
PHOTO GALLERY
Boob Sled For Breast Cancer
Those breasts, along with Wilson, must complete the 1,675 mile trip in less than 64 days to break the Guinness World Record for fastest solo and unsupported crossing of Antarctica.
To prepare for the extreme conditions, Wilson, an Australian veterinarian and "avid adventurer," recently left for the Arctic Circle in Canada, according to the Courier-Mail.
On Sunday, Wilson posted to his blog that current temperatures ranged from -22 to -4 degrees Fahrenheit.
But Antarctica will be more difficult -- USA Today reports that the continent's average temperature in November (when Wilson will be there), is -40 degrees Fahrenheit.
"I'm going to be the laughing stock of the penguins down there," Wilson told Gold Coast News.
Still, the booby traveler remains optimistic. The planners of his Pink Polar Expedition hope to raise $1 million for the McGrath Foundation, an organization that works to place breast cancer nurses across Australia.
Inspiring the cause is Wilson's longtime friend, Kate Carlyle -- a journalist and two-time breast cancer survivor. Carlyle assists the Pink Polar Expedition through promoting breast cancer awareness and encouraging women to get themselves checked, according to Gold Coast News.
"She is halfway through her expedition and I'm just about to start," Wilson told the Courier-Mail. "Her bravery will carry me through."
BEFORE YOU GO
PHOTO GALLERY
The Big Banana Car