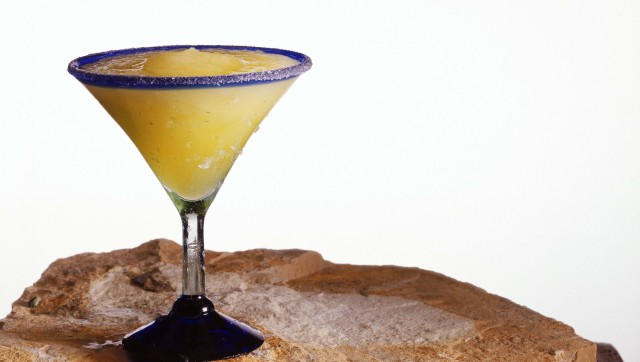 When you think of Texas, you do not think of martinis. Barbecue, yes. Shiner Bock, definitely. But martinis seem to be a drink designed for hurried Manhattanites, not Southerners, stereotyped as slow-talkin' and beer-guzzlin'.
But the stereotypes are just that, as the most beloved drink in the Lone Star state happens to be a martini, if an unconventional one. It's called a Mexican Martini, and okay, it might just be a glorified margarita, but it's surprisingly perfect for Texas' abundant hot summer days.
Writes The Tipsy Texan:
Like the margarita, the provenance of the Mexican martini remains obscured by cocktail history's inebriated memory. At its simplest (and in my opinion, best), the drink is essentially a margarita presented in a cocktail shaker and then poured tableside into a cocktail glass rimmed with salt and garnished with a jalapeño-stuffed olive. At its worst it is shaken with Rose's lime juice or other adulterants.
Such "adulterants" (and we're less inclined to call them that) include orange juice, lime juice, and Sprite. At least that's how Mexican Martinis are served at Trudy's, a local Tex-Mex joint known for the drink. Ask an Austinite where to get ahold of a shakerful, and they're sure to point you in the direction of Trudy's. While Trudy's might boast the most popular Mexican Martini in Austin, they can't lay claim to creating the original, although that title isn't a clear one. The Cedar Door has allegedly been serving the recipe for over two decades, yet Trudy's has dubbed itself "Home of the World Famous Trudy's Mexican Martini." Now, nearly every bar in Austin has its own version.
Regardless of its origins, the drink could probably be described as Austin's most famous cocktail. The city's cocktail culture is consistently described as "burgeoning," i.e. somewhere in between nothing but vodka cranberries and everything under the sun (including some lamentable add-ons, like oysters). It's refreshing to see a cocktail that's so agreed-upon that it can reign supreme in a city.
It doesn't hurt that the Mexican Martini is so uniquely Austin. Even in Dallas, less than a four-hour drive away, the drink is uncommon. Writes The New York Times:
A city with down-home Texas character, Austin also sports a veneer of cosmopolitan refinement that comes with being the seat of the state government and home to one of the country's largest universities. In that light, the appeal of the Mexican Martini makes sense. While slurpy, frozen margaritas are a staple around the city, this one is dressed up in a suit and tie.
If you aren't planning on heading to Austin, Texas anytime soon, you can make your own Mexican Martinis. And when you do, make sure you toast to the city we have to thank for them.
BEFORE YOU GO
PHOTO GALLERY
Cocktail Twists