Three days away from Friday's sequester deadline, troops are among the groups facing worries over the automatic federal spending cuts.
The White House released a visual on Twitter Tuesday, detailing what U.S. military members will lose as a result of no agreement.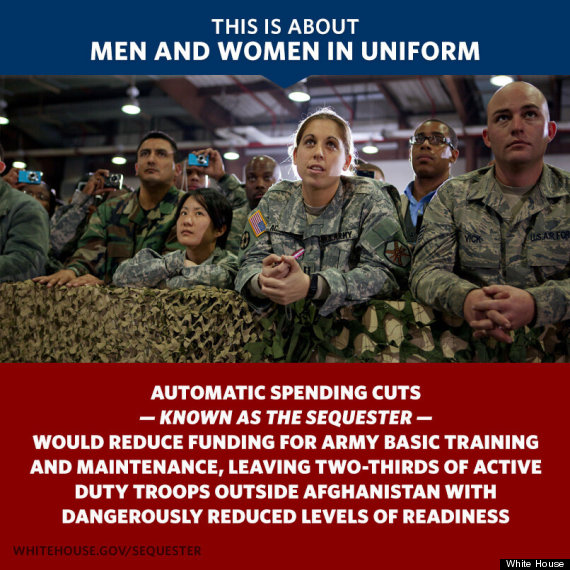 Beyond hits to military training and maintenance, the Associated Press detailed back on Feb. 15 how the sequester would affect U.S. troops currently stationed in Afghanistan. At a Brookings Institution conference in Washington, Gen. Raymond Odierno admitted that there could be delays in bringing in replacements.
"We will try to divert money so we do not have to extend people in Afghanistan," Odierno said. "That's a very big concern of mine."
From the political side of the conversation, House Speaker John Boehner (R-Ohio) said Tuesday that the discussion needs action from the Senate, telling members in that sect of the legislative branch to get "off their ass."
"The president has known for 16 months that this sequester was looming out there when the super committee failed to come to an agreement," Boehner said at a press conference on Capitol Hill. "And so for 16 months, the president has been traveling all over the country holding rallies instead of sitting down with Senate leaders in order to try to forge an agreement over there in order to move a bill."
BEFORE YOU GO
PHOTO GALLERY
Do These Things, Don't Cut Entitlements