On Sunday, Buzzfeed posted a photo of some sign art at the Tribeca Whole Foods."This is hanging in the flower section of a Manhattan Whole Foods," wrote Amy Odell. "But it probably belongs in the Met."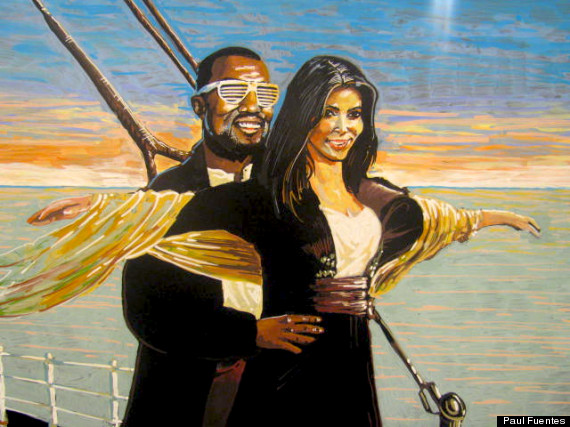 The "brilliant artist" behind the illustration-- showing Kim Kardashian and Kanye West as Titanic stars Kate Winslet and Leonardo DiCaprio-- is Paul Fuentes, who along with D.J. Schmidt, is an in-store artist and graphic designer for the Marketing Department of the Tribeca store.
Whole Foods artists, in their quest to grab customers' attention, are allowed to have a little fun with pop culture. A Tumblr page of the artists' work, called "Chalk Zombies," shows illustrated riffs off everything from Home Alone to the Ryan Gosling "Hey Girl" meme, from Salvador Dali to Willy Wonka And The Chocolate Factory.
"For me, pop culture is always fun to reference because everyone can relate to it and get involved," said Fuentes of the team's work.
The Kimye illustration was made for Valentine's Day.
"I was assigned to do a generic Valentines Day themed promotion," he said. "Kim & Kanye have been in the news a lot lately as 'The Couple.' I wanted to tell a Valentine's Day story that people could relate to now. I try to use humor in my pieces to convey the message."

Check out some more of Fuentes' work below.
BEFORE YOU GO
PHOTO GALLERY
The Art Of Paul Fuentes