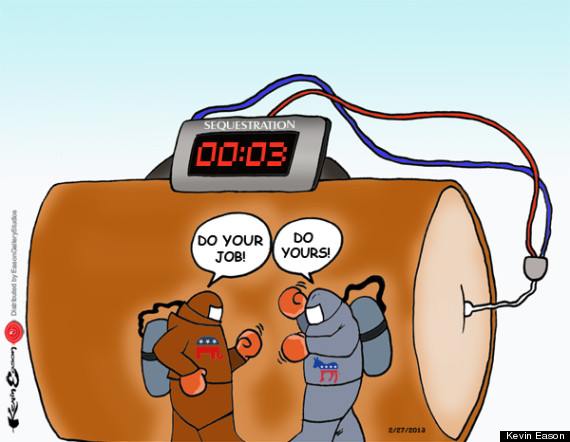 Time is ticking as the March 1 sequester deadline looms, and it seems the government keeps getting closer to imposing $85 bilion in across-the-board spending cuts.
Republicans and Democrats have had issues on several policies in the past, and sequestration seems no different as the two parties can't come to an agreement.
Sequestration can have a serious impact on Americans' lives, and could have a particularly harmful affect on people of color, and as the deadline gets closer, it seems like a ticking time bomb.
At least that's what cartoonist Kevin Eason thinks, illustrating how the parties are wasting time arguing and pointing fingers as time winds down.
What do you think? Will the Republicans and Democrats ever come to an agreement before the deadline? Can they stop pointing fingers and achieve progress? Share your thoughts in the comments section below.
About the artist:

Kevin Eason is a freelance editorial cartoonist and illustrator from New Jersey. His brand of satire covers news events in politics, entertainment, sports and much more. Kevin's work features include: Gannet, TVOne, Uptown, The Urban Daily, NAACP, Cengage Publishing, Bossip, WBLS_107.5FM, and various newspapers and magazines throughout the country. Follow him on Facebook.
PHOTO GALLERY
The Political Satire Comedy Of Kevin Eason