Stock images tend to be as ubiquitous as they are unimaginative, but a new series of not-so-conventional stock images from DIS Magazine is out to stretch the muzak of the art world beyond women laughing alone with salad.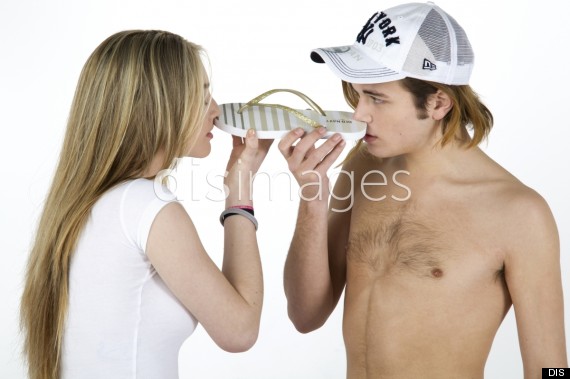 DIS, which calls itself a "dissection of fashion and commerce which seeks to dissolve conventions, distort realities [and] disturb ideologies," has released a collection of strange stock photos that make Buzzfeed's roundup of unusable stock photos look catalogue-ready.
The artsy images draw from traditional stock photography recipes, featuring diverse models in identical positions and enhancing ordinary scenarios with unnatural levels of happiness. Yet the traditions are warped and remixed, resulting in a surreal image cache of visualizations you never knew you wanted to see. (For example, the two preppy Abercrombie-like models above sensually sniffing a flip-flop.)
One example of a DIS stock photo series is called "The New Wholesome." Beginning with subject matter often thought to be innocent, like mothers and vegetables, the series quickly devolves into some not-so-angelic family fun, including one photo of, as DIS editor Solomon Chase put it, "wholesome-looking Asian women making out on top of a washing machine with a lot of cash."
Check out some of our favorite examples of DIS images here:
PHOTO GALLERY
DIS Stock Photos (NSFW)
MORE ARTS NEWS:
Who Would Steal An Empty, Pretentious Dali? "If it did not have such a famous name attached, it would not be worth a cent." That was way harsh, Jonathan Jones. (The Guardian)
Maurice Sendak Illustration Exhibition Tour Debuts: The first show since the beloved children's illustrator's death, on the 50th anniversary of "Where The Wild Things Are." (LA Times)
Pacific Standard Time Sequel Gets A Theme: The 2017 exhibition will be called "Los Angeles and Latin America," or "L.A./L.A." for short. (LA Times)
When Artists Become Business Gurus: "It's about doing the work for the love of the work," Tom Sachs tells Details Magazine. Annnnd... the artist says the reward for success in art is "more work." (DETAILS)
Street Portrait Photography Gets Raw: A conversation with a fotógrafo minutero in Cuba. (National Geographic)