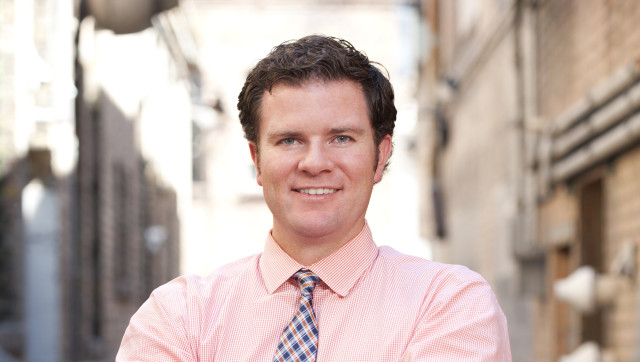 Designer Matthew Dickamore has quite an energy about him that certainly translates in his work (see: explosions of vibrant colors, anyone?). As the creative director of Salt Lake City's Denton House Design Studio, Dickamore spends his time re-imagining traditional mountain style by mixing in modern materials and incorporating natural elements in new and exciting ways.

And if you're looking for someone who's just as passionate about bringing your vision to life as you are, Matthew Dickamore is just the designer for the job. We had an opportunity to ask him some questions, and the one thing we learned right off the bat is his commitment to creating unique environments for his clientele. Read more about Dickamore's thoughts in our Q&A below, and click through the slideshow to see images of his beautiful work.
The Huffington Post: Do you have any signature element you like to incorporate in every project?
Matthew Dickamore: No. I try to make each space unique and different. I never want to be put into a design category. I want to be able to design something different for each client instead of creating a signature look for myself. One of the things I try to incorporate in each space is a different way of mixing finishes. For example, in a restaurant we designed at a ski resort in Park City, we used reclaimed barn wood on an accent wall and then haphazardly added gold leaf squares to mix things up a bit. It was a great way to break up a rustic finish.
HP: Which design decisions make the biggest impact in a space?
MD: Color! I always love how color can change the look, mood, and feel of a space. It does not have to be bright pink or neon orange to give a big impact. It can be a clean white or a midnight black in the midst of a sea of neutrals.
HP: What do you anticipate will be the hot trends in the coming months?
MD: Again, color: now that we are full steam ahead towards summer weather, we'll want to brighten up our spaces. I'm starting to see people who aren't afraid of adding bold colors as a focal instead of just an accent.
HP: What's a common mistake that the average homeowner makes in or to their home?
MD: Scale. We either try to squeeze too much furniture into a space or not enough. We hang small art on huge walls, or have tiny lamps next to a large four posted canopy bed. Clients will take me into an existing space and say, "something is wrong in this room, but I don't know what it is." Nine times out of ten, something is out of scale.
MORE Q&A BELOW
PHOTO GALLERY
Matthew Dickamore
HP: What's the one furniture item/accessory/etc. that no one should have in their home?
MD: We all won't admit to it, but everyone has a piece of furniture or some sort of something that should have been thrown out or given to the Salvation Army years ago. We all hold on to things. Maybe it is the first sofa we ever owned or a lamp that gives light but nothing else to the space. Do some spring cleaning and get rid of items that are not serving a meaningful purpose to your space! It is so refreshing to let go!
HP: What's the one furniture item/accessory/etc. that everyone should have in their home?
MD: Every home should have something meaningful. I have a couple pieces of furniture and some accessories that have sentimental value. These pieces are also great conversation starters when entertaining guests. Maybe it is a small souvenir from a recent trip or a furniture piece passed down from generation to generation. Don't fill up your home with items that don't mean anything. It is your home, not a hotel.
HP: What house inspired you to be a designer?
MD: I have always been drawn to large estate homes in the United Kingdom. The casual yet stately feel of Athorp to the intricate details of Buckingham Palace have always fascinated me.
HP: What's your own home like? (And if you live with someone, how do they feel about it?)
MD: My house is by no means my dream home, but I have made it into "my home." I made changes to the bones of the house when I moved in to reflect my personality. I added different textures, colors, and light fixtures. People say my home is fun, comfortable, and creative. I want people to feel like they are at home in my home.
HP: What's the greatest design lesson your mentor ever taught you?
MD: Go big or go home! I remember learning this from one of my college professors. This has stuck with me ever since. What is the point of being a designer if risks are not taken?
HP: Why should people care about design?
MD: Believe it or not, design can change how one feels about themselves. If someone does not feel "at home" in their home, they don't want to be there. They don't want to have friends over. It is not a a "safe place." Design cannot only make a space more functional, it can also change how people feel. I was helping a friend with her home recently and showed her how she can change a few things to make her home more like her personality. With a few changes and additions she feels like the place she is renting is now her home because the space reflects her personality.
Have something to say? Check out HuffPost Home on Twitter, Facebook, Pinterest, Tumblr and Instagram.
**
Do you have a home story idea or tip? Email us at homesubmissions@huffingtonpost.com. (PR pitches sent to this address will be ignored.)