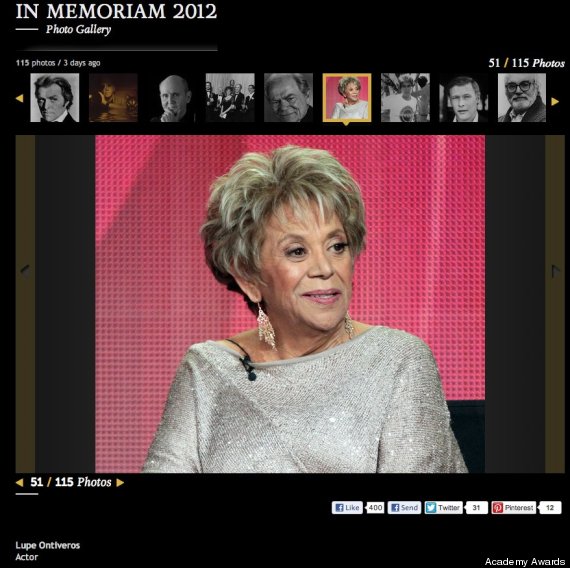 It isn't exactly an apology, but it's a start.
The Academy of Motion Picture Arts and Sciences added Lupe Ontiveros to the "In Memoriam 2012" photo gallery on its website after an Oscar-night snub that left the Latino community enraged. (Screenshot above)
Ontiveros now appears as the 51st in a series of 115 photos. The eagle-eyed bloggers at Latino Rebels were among the first to notice.
"Lupe Ontiveros is among the many worthy artists we were unfortunately not able to feature in the 'In Memoriam' segment of this year's Oscar show," an Academy spokesperson told Fox News Latino. "She is, however, included in our 'In Memoriam' gallery on Oscar.com,"
Several Latino organizations pounced on the Academy this week for failing to mention the Mexican-American actress during this year's "In Memoriam" tribute to film stars who have passed away.
Felix Sanchez, the Chairman of the National Hispanic Foundation for the Arts, said in Facebook on Tuesday that he raised the issue with the Academy's diversity chief, and asked that she be included on the website. Sanchez said he expected the website update to occur the same day.
Born in Texas of Mexican descent, Ontiveros died on July 26, 2012 at the age of 69 from liver cancer. She made hundreds of films and TV shows; her most recent role is now in final production.
The actress's portrayal of Yolanda Saldivar in "Selena," film that pulled Jennifer Lopez out from anonymity, traveled the world, and today keeps being her most remembered work.
To remember her wonderful contributions, applaud her achievements, and praise her memory forever we have put together a gallery of some of Lupe Ontivieros' most memorable roles below. Take a look and enjoy the talent of one of the most unforgettable Latinas in the film industry.
BEFORE YOU GO
PHOTO GALLERY
Lupe Ontiveros